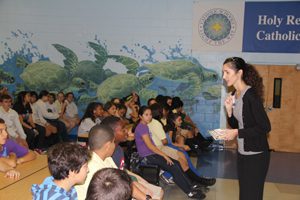 With over half the world living on less than two dollars a day and a child dying of hunger-related diseases every five seconds, confronting hunger in the world can feel like an insurmountable task. But not to students at Holy Redeemer Catholic School in Kissimmee. After hearing these and other sobering facts about local and global hunger, students were asked if they thought they could make a difference. A sea of hands went up as the fourth through eighth graders shouted out enthusiastic ideas.
Holy Redeemer is one of several schools, youth groups, and religious education programs that recently hosted a hunger awareness presentation in the months leading up to the Million Meal Challenge on November 18. Groups participating in the challenge invited representatives from Catholic Relief Services and Catholic Charities of Central Florida to bring to life the people who would be helped by their efforts.
"We wanted the children to be more aware." said Leonor Shortman, a teacher at Holy Redeemer. "It is not just this little world around them, the world is very big. We want them to understand how things are in the rest of the world and even here in our area we have a lot of families in hard circumstances. It is nice for them know exactly what they are working for at the Million Meal Challenge"
Covering a range of topics from global and local hunger facts, Catholic relief efforts, and Catholic social teaching, the interactive presentation helped start a conversation on how and why the students could help their brothers and sisters in Christ.
"The goal of these presentations was to share the Catholic response to hunger and poverty," explains Stephanie Bosse (pictured above with students), Catholic Relief Services Coordinator for the Diocese of Orlando. "We focused on praying, learning, acting, and giving as a way for all participants to be engaged in the Gospel call to 'feed the hungry' and 'clothe the naked'."
At the Million Meal Challenge participants brought donations for local food pantries and packaged meals for Burkina Faso in Africa, but the hunger presentations emphasized the need to remember the hungry throughout the year, not only on one day of service. Students learned that with prayer, service, and a little bit of sacrifice they can make a big impact.
"I would like to help," said Tyler, a fourth grader at Holy Redeemer. "I want to take money out of my piggy bank so poor families and people who are hungry can use the money to buy food."