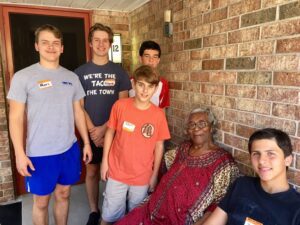 Nearly 20 teens from Resurrection Parish in Lakeland, ages 12 to 17, participated in the Heart at Home Service Retreat, a day of service and reflection on Feb. 1. Aimed at teens with a passion for service, the youth traveled with adults to local agencies and residences to make a difference and shine Christ's light and love on those in need.
The teens served clients from ages 71 to 96 from Volunteers in Service to the Elderly (VISTE) who live in Gober Villas, a public housing development for the elderly. From raking leaves, helping with projects such as cleaning and organizing, unpacking boxes, defrosting freezers, and filling out paperwork, the teens made a conscious effort to live out the corporal works of mercy and be the face of Christ in the world.
After the projects were completed, they reflected on what it means to put another first. Kai, a 14-year-old freshman on the retreat said, "We live in a world where there's a lot of hate and bad things happening. Today was about love and good."
This is the sixth annual Heart at Home Service Retreat. Youth ministry director Maggie McGowan explained that each year the teens attend Catholic Heart Workcamp in the summer, a mission that enables living out ones faith through service to the neglected, brokenhearted and marginalized throughout the United States and abroad. McGowan said her youth ministry likes to take days throughout the year to serve at home as well.
"We are all called to be disciples of Christ, which means living out His love every day," she said. "On days like this, we have given and received His love. When we serve God's people on a day like this, it makes us more conscious of being a servant in our day to day lives. These teens are now challenged to go out and live God's love in their lives."