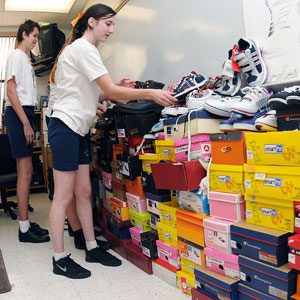 When student leaders at St. Teresa Catholic School in Titusville learned that most children in the Dominican Republic walked through rugged terrain barefoot in order to go to school, they jumped to action, spearheading a shoe drive in the hopes of sending shoes to 100 of these boys and girls. In the end, the students easily surpassed the goal, collecting more than 200 pairs of shoes.
"We are extremely pleased with the results," said Jacqueline Zackel, principal. "I think the success of this drive speaks volumes about the generosity of our school children and parishioners. We strive to teach the children that they are part of something greater than themselves and with a little faith, they can achieve anything."
Members of the school's National Junior Honor Society (NJHS) kicked off the drive earlier this year, appealing to the school and parish communities. They placed inserts in the parish bulletin, spoke to the congregation during Mass, placed donation jars throughout the school, and held a walk-a-thon. Soon stacks of shoes starting lining the back wall of the 8th grade classroom.
"When the students first began talking about the drive, they had hoped to collect enough money to buy 25-30 pairs of shoes, but then they thought, why not dream big and aim for 100 pairs," said Yara Aldana, Spanish teacher and NJHS advisor. "The drive took off like wildfire. I teared up when I realized we would be sending closer to 200 pairs of shoes to the children of the Dominican Republic."
"It feels very good to know that I am part of this cause," said Nicolas, an 8th grade student and president of the NJHS. "Placing myself in their shoes, I realize how happy the children of the mountains of the Dominican Republic will be to receive these shoes. It is a little thing that makes a big difference."
Participating in the event has inspired 8th grader, Kaylyn, to continue doing Works of Mercy.
"Being a part of the shoe drive makes me feel generous and good because I am making a difference in the lives of children, who now won't have to walk barefoot through the mountains," she said. "I think I may do more projects like this soon."