ALTAMONTE SPRINGS | In a departure from their everyday school uniform, students in Coach Bob Anderson's health class at Annunciation Academy in Altamonte Springs have traded in dress code for computer code. The VIRTUALI-TEE from Curiscope is an interactive t-shirt that uses augmented reality to show the wearer's internal systems from the waist to the neck – revealing the intricacies and wonders of God's creation to a very enthusiastic classroom.
"It allows the students to see what their internal organs and bones look like from a virtual perspective," explained Coach Anderson. "It includes the skeletal, respiratory, circulatory, digestive and urinary systems. It is a very cool 3D learning experience and also offers 360 videos of the inside of the bloodstream, intestines and lungs. The kids really love it and get very excited when I use it during health class."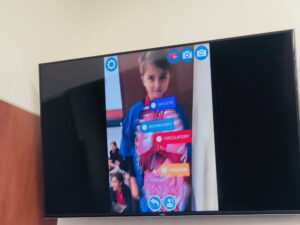 Run through an app, the student simply puts on the shirt and when a tablet or phone with the application is pointed at them, the shirt comes to life. It can track the wearer's heart rate while a holographic guide talks them through each of the systems. Screen mirroring allows everything to be projected onto the large television in the gym so the entire class can see and hear. Best of all – everything is machine washable! The shirt is in keeping with the school's commitment to providing a stimulating learning environment in which each child can develop their potential spiritually, intellectually, socially, and physically.
"As part of our STREAM initiative, we use an integrated approached to heighten student engagement and promote independent learning," explained principal Patricia Kahle. "In his health lesson, Mr. Anderson was teaching about the various parts of the body. He also teaches lessons on nutrition and exercise to help the children understand the importance of taking care of themselves as part of God's creation. The more the children can see and manipulate how these various aspects of our bodies work together and help them grow, the better they will be able to care for themselves. After all, knowledge is power."
By Elizabeth Wilson of the Florida Catholic January 29, 2020