ORMOND BEACH | Isabella spotted a piano in the recreation room as soon as she arrived at Seaside Manor with the rest of her eighth grade class. She sat down hoping to bring some joy to the elder residents of Seaside Manor. It seemed like a small thing, "But when you look deeper, it's a Corporal Work of Mercy, like visiting the sick, the imprisoned…," said Isabella. They loved it and showed their favor by breaking out in joyful comments and claps of approval.
At first glance, it would appear St. Brendan Catholic School students' efforts to spend time with residents of Seaside Manor throughout the year was just a school project. In reality, students and residents got more than they ever imagined. "We get to strengthen their faith and show them more of the world," noted Isabella. "We get to expand the love of Christ so that they are able to be happier. We're able to share the love Christ has given us, with them."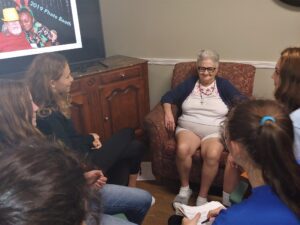 "For a few years I had read about these intergenerational projects people had done and I wanted to do that," explained Social Studies teacher Lizanne Swaringen. "The relationships you build and the values benefit everybody." She decided this year she would do finally do it with her eighth grade students.
Fortunately, within walking distance of the school is Seaside Manor, facilitating monthly visits. Swaringen had been there before with other eighth-graders, but this was the first continuous project of this kind. She thought the intergenerational experience would allow students to learn history from those who lived it. Because many of the residents are normally confined due to physical limitations, the meetings also served a charitable purpose.
"This year-long project was a wonderful way to truly practice the Corporal Works of Mercy," noted Swaringen. "Many of the elderly are confined to wheelchairs. Others are sick. But, so many of them are lonely. This project gave students a way to put their faith in action and become spiritually enriched because of it. The students not only showed kindness and love to the elderly, but also gained an understanding of the daily struggles they endure each day. True friendships were built and my students learned about many events in history by those who lived it. What a blessing!"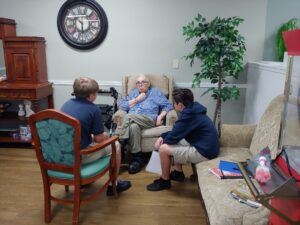 Swaringen paired with religion teacher, Monica Vega, for monthly activities allowing enough time to visit and engage the residents. It was a physical way for students to learned about history and service, while being Christ to others.
Their first gathering was a meet and greet. To prepare the students, Swaringen put them into small groups and tasked them with coming up with 10 questions to initiate conversation about the residents' lives growing up. She warned they might not get past the second question as older people enjoy reminiscing. At the end, Isabella played the piano. Spurred by the residents clapping and joyful response, her piano playing became a parting tradition.
Isabella recalled returning once with her father to help repair a friend's glasses. Linda and her fellow residents were glad to see them. "They were so appreciative. Everyone there was happy to see us, even those we didn't know." In gratitude, Linda gave them a recipe, because she loves to cook, as does Isabella. "We shared different memories right there. It completely made our day, both of us," Isabella noted. She hopes to make the chicken dish this summer and said she will remember their "culinary arts connection".  The young student plans to return, once the pandemic is over, and made arrangements to play piano for the residents from time to time.
"This experience has been extraordinary," said Religion teacher, Monica Vega. "It is quite a blessing to watch teenagers reach out to their older friends and see them be received with equal admiration. Truly, this has inspired growth, wonder, and awe in all who have witnessed such an outpouring of love."
Recalling one visit in which students looked up headlines related to the residents' birthdates, Robert, another eighth-grader, commented, "They all had very interesting stories about their life. Some fought in WWII. One of them used to be a very successful professional ice skater." Robert said it made him realize "life wasn't too different" before.  Noting their shared experiences of the eighth grade, he said, "One man had hobbies and friends like we do." He added, "It was great to meet the people there. Most of the time they don't get visits, and a lot of them don't even have family nearby. They really enjoyed it and we all did too."
Carly had great grandparents with memory issues, so she was prepared when she met many of the residents. "I think when people aren't exposed to family and friends, it's fulfilling for them when we come to visit. Their face lights up. … When we go there, it shows that in real life, Jesus' word from long ago can still take part now."
A few weeks after COVID-19 mandates restricted visitation, Swaringen called Seaside Manor and inquired how the residents were doing. She was told they were struggling, so the teacher asked if they could visit from outside. The activities director was thrilled.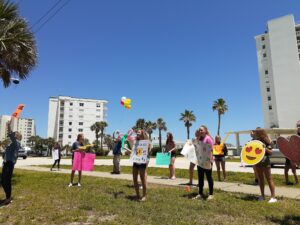 When Swaringen called to ask the eighth-graders to partake in a parade, Carly was happy to go. She noted the parade was bitter sweet for her. Most students were able to join in with posters communicating heartfelt messages, balloons and noisemakers. Students brought cards which Swaringen delivered in an envelope. They would have to sit for 24 hours to assure they were safe to handle. The marketing director thanked Swaringen, saying "We really needed this."
As they stood along the sidewalks and parking lots around the building to be within window view for the residents, there were mixed emotions on both sides. Even healthcare workers came to greet the students from afar. "It was sad seeing them sit in their rooms because I know they can't have visitors," said Carly. "They can't leave at all. When we got there and saw them waving, smiling, and some crying, it was very eye opening."
She said learning about the Corporal Works of Mercy and living them out is a very different experience. "I feel like we were disciples that took what God was teaching us and took it out into the world. We don't have the ability to work miracles, but we can put a smile on their face and make them feel loved. We're spreading the Word."
By Glenda Meekins of the Florida Catholic May 13, 2020