WILDWOOD | Bishop John Noonan blessed and broke ground on St. Vincent de Paul Parish's new Family Life Center alongside pastor, Father Peter Puntal, and Father John McCracken, parochial vicar, Oct. 27. The Sumter County parish is home to thousands of parishioners, especially during snowbird season, when more than 6,000 people attend weekend Mass celebrations.
The nearly 24,000 square foot facility will include a social hall, coffee bar, faith formation classrooms, warming kitchen, religious gift store and administration offices.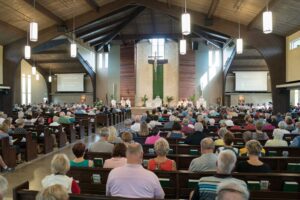 "The New St. Vincent de Paul Family Life Center is a testament of our parish's greatest strengths. They are spirituality, a sense of family and community, and an avenue for people to make Christ's love visible and accessible, especially for the needy," said Father Puntal. "It is a place where people know they belong and are welcomed."
The Family Life Center is expected to be complete in late 2020.
By Glenda Meekins of the Florida Catholic  October 30, 2019