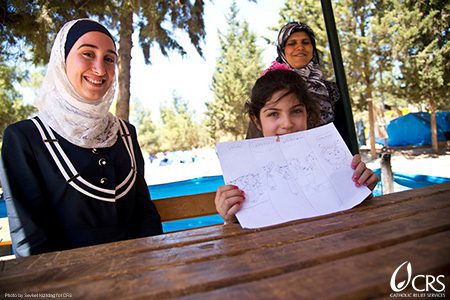 Catholic Relief Services has assisted 1.5 million Syrian and Iraqi refugees in the Middle East and Europe; most are women and children. Working closely with these families, CRS staff gets to know about the fear and terror they fled, and also about their hopes and dreams for a peaceful future. This is Malak's story. She is a young Syrian woman who fled from war-torn Aleppo a few years ago. She is fulfilling her lifelong dream as a teacher working in Turkey. She is helping other children who have faced the same situation and is offering them solace through various educational activities.
Life is about to become harder for those who are fleeing violence and trying to find safety in the United States. Catholic Relief Services stands with the USCCB and our brothers and sisters who are facing hardships around the world.
Catholic Relief Services is the official international humanitarian agency of the Catholic community in the United States. The agency alleviates suffering and provides assistance to people in need in more than 100 countries, without regard to race, religion or nationality. CRS' relief and development work is accomplished throughprograms of emergency response, HIV, health, agriculture, education, microfinance and peacebuilding.  For more information, visit www.crs.org or www.crsespanol.org and follow Catholic Relief Services on social media: Facebook, Twitter at @CatholicRelief, @CRSnews and @CRSnoticias, Instagram, Pinterest and YouTube.