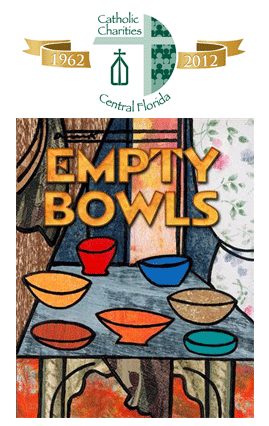 In the weeks leading up to the Super Bowl on February 3, take the opportunity to tackle hunger in our community. The Souper Bowl of Caring is a canned food drive to help stock the food pantry shelves of Catholic Charities of Central Florida. Set up two collection bins, one for each team in the Super Bowl, and let people show support for their team by which bin receives their item. To host a Souper Bowl of Caring at your parish or school, contact Catholic Charities' volunteer coordinator: anita.capetillo@cflcc.org, 407-658-1818. The Souper Bowl of Caring is 50,000 Hours of Service Challenge opportunity.
Empty Bowls Gala will Raise Funds and Focus Attention on Problem of Local Hunger
On February 1, 2013, Catholic Charities of Central Florida will host the first Empty Bowls Dinner Gala, featuring a live and silent auction of ceramic bowls hand painted by local and national celebrities. The gala will benefit the Agape Food Bank, a program of Catholic Charities of Central Florida.
Over sixty bowls will be up for auction including creations from: Southern chef and television personality, Paula Deen; Olympic gold medalist, Aly Raisman; and right fielder for the New York Yankees, Matt Diaz. Public figures such as Agriculture Commissioner Adam Putnam, Congressman Dennis Ross, Lakeland Mayor Gow Fields, and several local artists and high school students are also lending their creative talents to this effort with their unique contributions.
More than just a work of art, these "empty bowls" are a reminder of the more than 24,000 households in Polk County who struggle to put food on the table every day. Proceeds from the fundraiser will benefit the Agape Food Bank, which has been working to alleviate hunger in Polk, Hardee, and Highlands counties since 1983. In addition to distributing over 6 million pounds of food each year, Agape runs the SmilePak weekend feeding program at twelve Polk and Highland county schools, and operates monthly mobile pantries, bringing food into remote areas of critical need.
At the gala, Commissioner Putnam will receive the first annual "Champion Against Hunger" award. This award was established to recognize someone in the state of Florida who has made a direct impact on alleviating hunger in our community.
"We need to highlight the issue of local hunger and recognize those fighting against it" says Catholic Charities Western Region Director, Brenda Reddout. "I hope that the dialogue that begins that night will continue and become a community-wide dialogue."
More information and registration is available at the event's website: http://www.cflcc.org/emptybowls
Agape Food Bank, a program of Catholic Charities of Central Florida, was established in 1983 and feeds the hungry in Highlands, Hardee and Polk counties. Agape collects more than 6 million pounds of donated food each year and distributes over 4.8 million meals through a network of more than 240 emergency food pantries, soup kitchens and other programs.