MELBOURNE | Want to go on a pilgrimage, but don't have the time? Missionary of the Precious Blood Father Ben Berinti and Divine Mercy Radio host Bill Gent will take you on a Passionate Lenten Pilgrimage for one hour a week every Tuesday through April 7. Traveling from Palm Sunday to the Upper room, then into the Garden of Gethsemane, pilgrims will walk Calvary, ending at the tomb, awaiting the resurrection.
The Immaculate Conception Parish pastor explains, "In my own journey, I am always looking for new ways to experience the power of the blood of Christ in my life and to be a proclaimer of that power, which is the charism of my congregation. Finding ways to experience in my own life the meaning of Christ's passion as well as share it with others is always the heart of my own spiritual life. This was a way for me to embrace that and share it with others—helping others enter into that spirituality."
Modeling Christ's journey to the cross starting on Palm Sunday, Father Berinti likens the experience to that of our own meandering spiritual paths. He recalls, "In a matter of moments, Jesus goes from shouts of exaltation and all the Hosannas, then all of a sudden that bottoms out as quickly as it came. It represents the beginning of the intense passion experience. It's the same in of our own lives. We experience moments of joy and satisfaction, really feeling the grace of God or being touched by healing and then, just as quickly, after being on that mountaintop, things go south."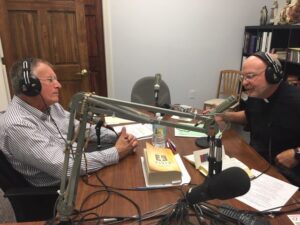 So why a pilgrimage? "We're trying to invite everyone to be a passionate pilgrim. We want to be intentional. There is a difference between traveling as a tourist and traveling as a pilgrim," he said. Father Berinti's first podcast "Preparation for Lenten Pilgrims" will highlight this difference, encouraging listeners to travel like pilgrims "who value more what is happening inside of them" rather than just going through Lent "collecting memories and photos"—wearing ashes, giving up candy and checking off the boxes. "All those are good things, but if they're not changing us internally," he says we're missing something. Going deeper allows "a change of mind and heart." He urges taking charitable efforts a step further. Rather than just collecting long sleeve shirts, learn something about the plight of farmworkers, allowing it to touch your heart and change the way you think. "We want our lives, our attitudes changed by what we see, experience and participate in during the Lenten season," he noted.
The following six weeks will focus on Jesus' stops along the way, starting with His road to Jerusalem. He urges listeners to focus their pilgrimage on community as well as personal growth. "We think it's all about our individual, personal conversion, but it's also about a community's transformation, whether it is a family or colleagues in a work place or school, the prayer group you're a part of. That is why we do communal alms projects," he said explaining there are more opportunities for spiritual growth in our parishes during Lent, more than any other time of the year. "Pilgrimage gives us a way to recapture that sense of a communal journey."
A pilgrimage is "a long slog," he emphasized. Some days are great and some days are rainy and you have to move on. "It's not all exaltation and it's not all sadness and despair. It's this strange mix of things happening. It's that great paradox of faith too, that even in moments of great disappointment, there are some shadows of resurrection to come."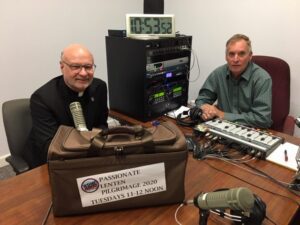 The March 10th episode revisits the search for a place to have the Last Supper. Each of the Gospels treat this story differently. "For me (Father Berinti), where are the places I can truly find supporting, caring community in my own faith journey? Before Jesus is about to enter the most intense expressions of His love, the Last Supper, pouring Himself out on the cross, He has to find a good place where He can be in community with His apostles, disciples and friends because what He is about to undertake requires the support of community. When we don't have that in our spiritual journey, we can see how difficult being a disciple really is."
He concludes with "The Long Loneliness", pointing out that people tend to rush from the Last Supper to Resurrection Sunday and forget that there is a waiting time outside the tomb. "It's really important for us to spend time, like the women did, sitting outside the tomb, wondering 'Is resurrection going to come into my life? Is the Lord going to deliver some healing for somebody I really care about? Is the Lord really going to raise up and help me move onto another step in my journey?'" He notes the human tendency is to brush over that because it is hard. We just want to experience the joy of resurrection, but "there is a lot to be found just waiting outside the tomb, waiting to see what God is going to do with our sorrows, with our disappointments—naming what those are and owning up to them." He notes much of the spiritual journey is spent in this waiting. "Once you do that, when resurrection comes there's that much more to celebrate."
---
Divine Mercy Radio listeners from New Smyrna to W. Palm Beach can tune in to 920AM Tuesdays at 11 a.m. to catch the Passionate Lenten Pilgrimage through April 7. To hear the podcast at any time, download the Diocese of Orlando's Faith Fit App available for both iPhone and Android.
By Glenda Meekins of the Florida Catholic March 4, 2020