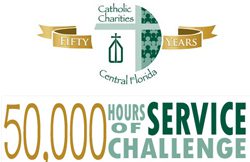 For fifty years Catholic Charities of Central Florida has served our community by providing hope and building opportunity for struggling individuals and families. We have assisted one million people since we were established on October 8, 1962. As we begin celebrating our 50th anniversary on October 8, 2012, we invite you to join in our mission. Help us to reach our goal of 50,000 hours of service during this year and make a difference in the lives of those around us. For information, go to www.cflcc.org/jubilee/service-hours-challenge.
About the 50,000 Hours of Service Challenge
In celebration of our 50th Anniversary, Catholic Charities of Central Florida has set a goal of achieving 50,000 hours of service during our Jubilee Year.
Reaching 50,000 hours will nearly double the number of service hours from previous years.
Opportunities include Acts of Service, Acts of Caring, and Acts of Prayer.
There are many ways to participate based on your availability, interests, and skills.
By providing service to Catholic Charities, you will make a difference in lives of our brothers and sisters and be a model of faith in action to our community.
Once you determine your project, you pledge your hours online. Then you complete your service and report your hours and share stories and photos.
ACTS OF SERVICE
Hands-on opportunities that may require travel to Catholic Charities' program locations.
Beautification Projects: Organization, cleaning, landscaping, and painting opportunities of Catholic Charities locations. Contact your local office for more information. Equipment is provided by the volunteer(s).
Service with Seniors: Plan entertainment or recreational activities for our seniors at Lake Morton Senior Center (Lakeland), St. Joseph Garden Courts (Orlando), or St. Anthon Garden Courts (St. Cloud). Suggested activities provided upon request.
Pathways to Care: Pathways to Care in Casselberry is a respite center dedicated to providing health, housing, and hope to Central Florida's vulnerable homeless population. Volunteers are needed to:
• Prepare and serve a meal for the residents
• Plan craft projects or outdoor activities
• Provide entertainment
• Help with cleaning and maintenance of the building and grounds
Agape Food Bank: Agape Food Bank in Lakeland collects more than 6 million pounds of food and distributes it to an estimated 100,000 needy families. Youth can help the food bank in the warehouse by:
• Sorting donations
• Checking dates on food packages
• Building food boxes for partner agencies
• Label cans and stocking tables
Million Meal Challenge A one day event to package 1 million meals to ease hunger in Burkina Faso, Africa and locally. Event will take place on November 18, 2012 at Rosen Shingle Creek. Visit www.million-meal-challenge.org to register as a team or individual.
Collection Drives
Refugee Welcome Box: Host a drive to provide a Refugee Family with basic household needs. Choose from bathroom, cleaning supplies, kitchen, or school supplies. List of needed materials provided.
Feed a Family: Choose an easy to prepare casserole recipe with few ingredients that youth can assemble to provide a family in need with all the materials for a full meal. Sample recipes provided.
Thanksgiving and Christmas Meal Drives: Collect elements of a traditional holiday meal for a family in need.
Adopt a Family Christmas Program Adopt a struggling family to provide with gifts during the Christmas season.
Souper Bowl of Caring: Generate excitement in the weeks leading up to the Super Bowl by hosting a Souper Bowl of Caring canned food drive. You can register your drive at www.souperbowl.orgfor a free packet of materials and to have your total added to the national amount of money raised or conduct your own drive.

Add friendly competition to the drive by setting up two collection bins – one for each team playing in the Super Bowl.
Show support for your team by which bin the donation is placed in.
Deliver collected items to the nearest Catholic Charities Food Pantry
ACTS OF CARING
We Care Cards: Cards are a simple way of communicating with someone in need. These cards lets the people we serve know that they are loved and not forgotten. Adopt a program of Catholic Charities of Central Florida and send cards to express love, support, and encouragement for those who are struggling. Sample messages are available.
Intergenerational Letters: Write letters and provide friendship to the seniors served at St. Joseph Garden Courts (Orlando), St. Anthony Garden Courts (St. Cloud), and Lake Morton Senior Center (Lakeland).
Intercultural Pen-Pals: Write letters and welcome a refugee family. This is a great way to learn about a different culture and help introduce the correspondent to life in America.
ACTS OF PRAYER
Prayer for Charity Download the Catholic Charities Prayer Card and pledge to pray daily for the people we serve, Catholic Charities' programs, and staff.
Church Documents Catholic popes and bishops have had a lot to say about charity and Catholic social teaching through the years. Read key Church documents to be inspired to put your faith in action.
Scriptural Rosary for Justice and Peace Pray the Scriptural Rosary for Justice and Peace using the Luminous Mysteries to help us follow more closely the example set by Jesus in His ministry to the poor and the vulnerable.