More than 150 people gathered for the 8th Annual "Achieving Their Dreams" breakfast to raise funds for Bishop Grady Villas to help support persons with disabilities. The funds will meet a growing demand for services to disabled adults throughout Central Florida. "We are doing amazing work, however we are still challenged by the intense demand for our services," said Kevin Johnson, Executive Director of BGV.
Photo: Bishop Noonan prays the blessing with a resident of Bishop Grady Villas before breakfast.
Bishop Grady Villas Residential Program provides housing to individuals with developmental and intellectual disabilities. Through its vocational programs, individuals engage in ongoing educational activities intended to help them have meaningful roles in the community. BGV's vocational program is also open to Central Florida residents. Employment services are also offered throughout Osceola, Polk, Orange and Seminole counties. The challenge is to provide for all those in need.
Johnson explained, "Currently there are 110 individuals on our wait list for our residential program. Our employment specialists have full caseloads and there are large periods of the year when we are unable to accept new referrals. As a result, many individuals with disabilities throughout the Diocese are still underserved."
A case in point is that of Olga Lugones and her daughter, Carolina, a current resident at BGV. "At 11 years old, Carolina couldn't read or write and the schools in Colombia weren't helping as much as I thought they should. After much research and consideration, I decided to move to the United States in 2001. I made this hard decision simply because it was best for my daughter," Lugones said. She remembered that Carolina initially flourished after moving to America, but recalled that graduating from high school was very difficult for her and she grew depressed. About that time, Lugones was diagnosed with thyroid cancer and began to worry about her daughter's future.
Lugones began the arduous process of applying for state funding which would provide assistance for her daughter. The long awaited funding arrived after seven years, but BGV had a waiting list. It was another year before there was an opening for Carolina at BGV. After just one year at BGV, Carolina is thriving.
"She has her own bedroom, bathroom and a shared living room and kitchen. She is responsible for keeping her room and bathroom clean, also for doing her laundry and putting away her clothes. This is the first time since Carolina moved from home that I don't worry about her care or her safety," Lugones said. "BGV cares for Carolina's whole being."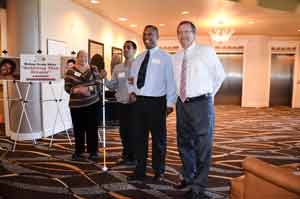 Johnson affirmed her saying, "The foundation of our program is our belief that all people bear the image of God and each person is given unique abilities. In community, we come to know and nurture these abilities. The result is a truly person-centered and life-affirming approach born out of our Catholic faith."
Photo: Bishop Grady Villas residents and staff greet guests at the 8th Annual "Achieving Their Dreams" Fundraiser.
Bishop Grady Villas is the dream of Sister of St. Joseph Elizabeth Marie Stoup. Sister Elizabeth envisioned a residential community where adults with disabilities could live as independently as possible, but also receive support to be safe and healthy. Out of this vision, was born the Bishop Grady Villas mission, which is to support persons with disabilities to use their God-given gifts to achieve greater independence, physical and emotional well-being, and spiritual growth.—Kevin Johnson