The Catholic Church in the United States will celebrate National Vocation Awareness Week (NVAW) January 13-19. This annual celebration marks a week dedicated to promoting vocations to the priesthood, diaconate and consecrated life through prayer and education. It is a time when families and the parish community are urged to nurture the faith of their children to prepare them to respond to whatever God's call is for them.
The observance of NVAW began in 1976 and in 1997 the celebration was moved to coincide with the Feast of the Baptism of the Lord, Jesus' initiation into public ministry.
In the Diocese of Orlando, we are blessed with a faithful group of priests, deacons, brothers, religious sisters and seminarians who are dedicating their lives to follow in the footsteps of Jesus, and prayerfully guide and inspire the faithful of the diocese. By living their vocations and answering the call of the Lord, they have found true joy and peace. We hear from four of these men and women who explain their vocation in their own words.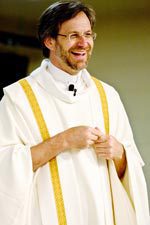 Father David Scotchie, pastor of St. Maximilian Kolbe Parish in Orlando, was ordained in 1993. One of six children, he attended St. Mary Magdalen Catholic School in Altamonte Springs.
When did you hear God's calling to religious life?
In 9th grade, we did a career report. We had to interview an adult in a career we were interested in. I wrote about being an engineer like my dad. But my heart was not in it.
A year later, on January 16, 1980 while changing classes in school, I heard a clear voice in my head, "Be a priest." The thought was not my own. God was calling me to be a priest.
How did you respond?
Without blinking, my response jumped out, "No." Being a priest was a great idea. The problem was that it was not my idea. I was a teenager and wanted to do my own ideas.
What brings you the greatest joy?
What gives me joy is showing and telling people how much God loves them. My joy is to know and share God's love through the sacraments, ministry, and preaching.
When do/did you feel the most blessed?
I feel most blessed when the Lord is intimately with me.
What is your favorite spiritual reading?
My favorite spiritual reading is the lectionary. I try to memorize the Sunday gospel and marinate in it. As St. Ignatius of Loyola taught, I love to imagine myself in the stories with Jesus. I read and listen to preaching from Catholic and Protestant preachers.
What advice do you have for someone discerning religious life?
Ask God to tell you what he wants you to do with your life. Ask your friends and family what they see you doing with your life.
What has surprised you about the religious life?
I have been surprised how inadequate I am to share God's saving love. I have been surprised how the Lord is okay with that.
Sister Dorothy Sayers, principal at Holy Family Catholic School in Orlando, grew up in England, where she and her siblings were raised to have a strong faith in God.
When did you hear God's calling to religious life?
The first time I thought about religious life was when I was a young girl, around 7. One of my classmates at St. Patrick said, 'Nuns have beautiful voices,' and I thought I can't give that to God. So, I began to pray to God about my calling.
How did you respond?
When I was a young teenager, I was part of a dance group. We were performing for sisters of the Religious Teachers Filippini. I was immediately attracted to their joy and happiness. I would often spend my weekends with them and entered the order when I was 15 years old. I had a strong falling in love with Christ.
What advice do you have for someone discerning religious life?
Listen to the pull in heart. God speaks to us quietly in our heart. If you have a continuing gnawing in your heart, pray to the Holy Spirit for guidance, and do not be afraid to answer the call.
What is your favorite spiritual reading?
Beyond scripture, because reading the New Testament is essential in knowing Christ, I read about the lives of saints because there are so many lessons to learn from them.
What brings you the greatest joy?
One of my greatest joys is knowing that I am doing God's will with my life and that I am open to where he sends me. When I was discerning the religious life, one thing I struggled with was my desire to have a family. God answered that prayer and in making me an educator, has blessed me with so many children. I have had a beautiful life.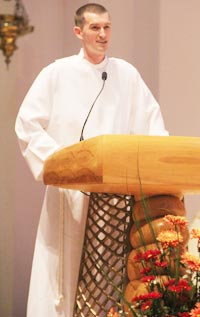 Chris Dorsey, fifth year seminarian at St. Vincent de Paul Regional Seminary in Boyton Beach, is also preparing to become a soldier and serve the men and women of the U.S. Armed Force as a military chaplain. Because of his father's military career, he and his family moved throughout the United States. He is currently completing his pastoral year, serving at St. Margaret Mary Parish in Winter Park.
When did you hear God's calling to religious life?
I first felt the call shortly after entering college.
How did you respond?
I first responded by trying ignoring it; I had just spent a lot of time deciding what I wanted to do with my life and where I wanted to go to college and none of those plans had anything to do with the priesthood. When it became obvious that the call was not going to leave me alone (about two years into college) I decided to seriously bring it to prayer and eventually talk about it with others.
What brings you the greatest joy?
There are two things which bring me the most joy. First, the friendships I have formed with the other seminarians and future priests of the state of Florida and being able to share in the struggles and blessings of life with them. The other would be opportunities to work with the people of the community. Getting to spend time with people and receive glimpses into the priesthood to which I am called will always bring me more joy than hitting the books in study.
When do you feel the most blessed?
I feel most blessed in seminary when after a busy day I am able to pray and really grasp how amazing an opportunity I am given to spend these years being supported in prayer as well as financially in order to focus on improving myself spiritually, intellectually, and in almost every other possible way.
What is your favorite spiritual reading?
I love to read about the amazing lives of faith that many priests and religious have lived. It amazes me to read the variety of adventures to which following God can lead people. One of my favorites is "The Shadow of His Wings" by Gereon Goldmann.
What advice do you have for someone discerning religious life?
Don't be afraid to talk about it with your friends. At the time I was discerning I was part of a social college fraternity and I was afraid of how many would react. When I did tell them, I was surprised at the overwhelming support I received.
What has surprised you about the religious life?
The variety and range of opportunities and people within the life continue to surprise me every day. In the past few years since entering seminary, I have visited Italy, Vatican City, and Spain, I have lived in Nebraska, Omaha, Miami, Boynton Beach and the Dominican Republic, and I have trained with the Army to be a Chaplain. I have learned about the mysteries of our faith in theology and also have run the Tough Mudder (a 12-mile obstacle run) and taken trapeze lessons. The religious life is full of surprises because it is open to life and all that it has to offer.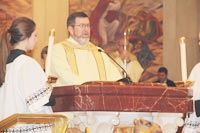 Deacon David Gray serves as the Director of Diaconate & Ministry to the Incarcerated for the Diocese of Orlando. He attended St. Andrew Catholic School in Orlando and was active in parish life, serving as an altar server and was a Boy Scout.
When did you hear God's calling to religious life?
There are lots of events that prepared me to be able to respond to God's call to be a deacon. The actual call to consider the diaconate came in the midst of parish challenges. Our parish had experienced an unusual number of changes in the pastor, which tended to be accompanied or surrounded by negative attitudes. My mantra through these challenges was that I just wanted to be fed. I was tired of all controversies. Through my desire to step back from ministry and just be fed, the ministry groups I was involved in became my prayer groups, asking God to lead me in the right direction.
As I was about to decide to step back from ministry, I heard a sermon on the vine and branches (John 15:5). I viewed myself as the grape just asking God to feed me. The homilist bluntly said, "You Christians who think you are the grapes just wanting to be fed, you are the branches and must be connected to the vine to be fed. The grapes are the fruit of being connected to the vine, so get out there and get involved in ministry."
This changed my entire view of what was happening in parish life and I decided at that point that I was called to not step back but to become more focused on making a difference to bring Christ's love to every aspect of my life. Within three months my pastor asked if I had ever considered being a deacon. The journey began.
As a religious, what brings you the greatest joy?
I find my greatest joy as a deacon reaching out to those in need and sharing our faith
Throughout your career, when have/do you feel the most blessed?
The blessings come in the relationships with others, walking with each other on our journey of faith
What is your favorite spiritual reading?
It has to be John 15:5 because it really embodies the understanding that all flows from and to Jesus Christ. It isn't what I do but who I am.
What advice do you have for someone discerning religious life?
Become fully involved in your faith by being the disciple of Christ right where you are. Take advantage of the many opportunities to explore your faith, to nurture your spiritual walk and listen to God's call through others.
What has surprised you about the religious life?
Religious life does not eliminate the challenges in life; it helps you see these challenges in a different light. God is always faithful.