Our Catholic Appeal is an annual opportunity for every member of the faith family to support the life-changing work of the Diocese of Orlando. Gifts to Our Catholic Appeal fund a wide variety of ministries that serve the nine counties of the diocese in ways that no parish could accomplish alone. Gifts to Our Catholic Appeal are the sole source of funding for ministries that benefit every parish, mission and school in the diocese in addition to providing critical support for outreach programs such as Catholic Charities of Central Florida and San Pedro Spiritual Development Center. Below are just three of the countless stories of how donations to Our Catholic Appeal are enkindling a deeper faith, harmonizing ministries, and forming leaders in Christ in the Diocese of Orlando.
Enkindling a Deeper Faith
Supporting Education
Offering a place to learn and rest in the Lord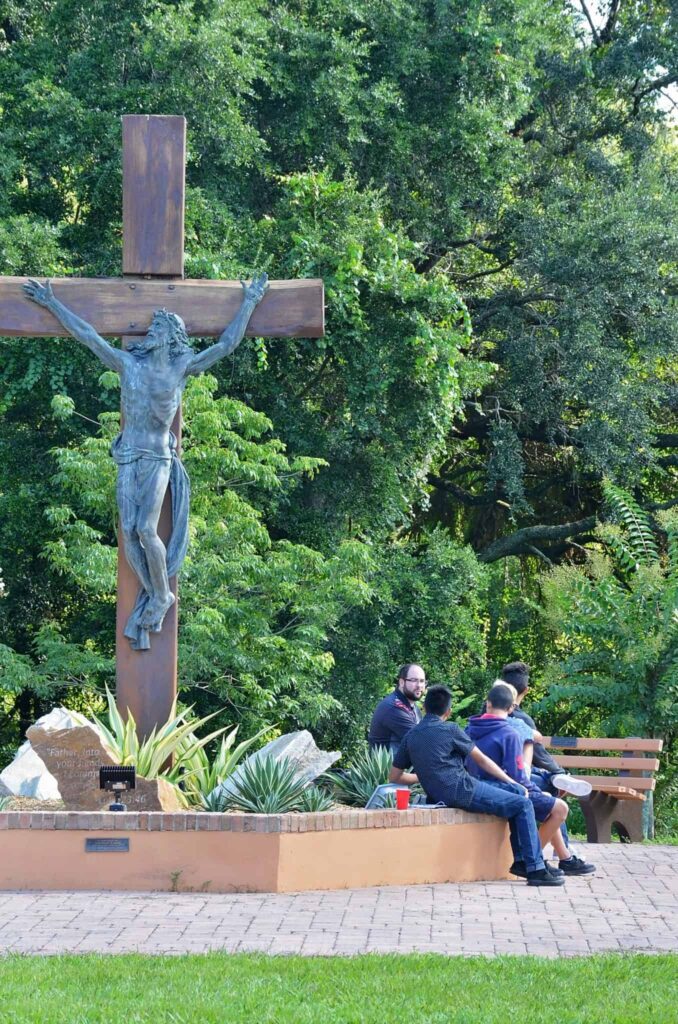 "I was an atheist until camp, so it changed my life. I found God," said 15-year-old Elisabeth who recently attended summer camp at the San Pedro Spiritual Development Center in Winter Park. She is one of the 9,000 visitors who encounter God at the center each year.
On any given day at San Pedro there may be engaged couples preparing for marriage at a Pre-Cana weekend, people participating in a book club led by one of the Franciscan friars, a variety of retreats taking place, or a member of the faithful simply encountering God in the serene beauty of the center's natural surroundings.
Supported by Our Catholic Appeal, San Pedro Center serves the people of the diocese as a place set apart for human, intellectual, spiritual and pastoral development. It recently became the home of Faith Fit Enrichment, a certification and continuing education program for diocesan catechists and teachers.
With recent building upgrades and future plans to enhance the center, San Pedro Director Franciscan Brother Randall Pinner says, "Our vision is to create the perfect environment for people and groups to become aware of God's presence in their lives amidst the beauty and peace of God's creation."
Forming Leaders in Christ
Supporting Leadership & Parish Life
Equipping the faithful to share the Good News
The 2017 Orlando Liturgical Conference gathered more than 600 people eager to learn about encountering Christ more deeply through the liturgy. For Natalie Tilus, a St. Catherine of Siena Parish choir member, the conference awoke in her a deeper understanding of how she shares the Good News through music.
"The music has to draw people into the liturgy and bring people to encounter Christ," said Tilus. "Everything we do as music ministers is either pushing people toward that encounter or pulling them away."
In addition to the conference, the staff of the Office of Liturgy and Music, supported through gifts to Our Catholic Appeal, plan a variety of enriching diocesan liturgies each year including the Corpus Christi Mass and Eucharistic procession, Chrism Mass, and priest ordinations. During Lent 2018, they will facilitate the diocesan-wide participation of "Living the Eucharist," a dynamic, parish-based program designed to help revitalize parish life and spirituality through a more profound experience of the Eucharist.
"Encountering Christ in the Eucharist is really what our Catholic faith is all about," said Bruce Croteau, Diocesan Director of Liturgy. "Through our encounter with the Eucharist, we're able to bring that encounter and that presence of Christ into the world. We become missionary disciples."
Harmonizing Ministries
Supporting Human Dignity & Solidarity
Feeding the Body of Christ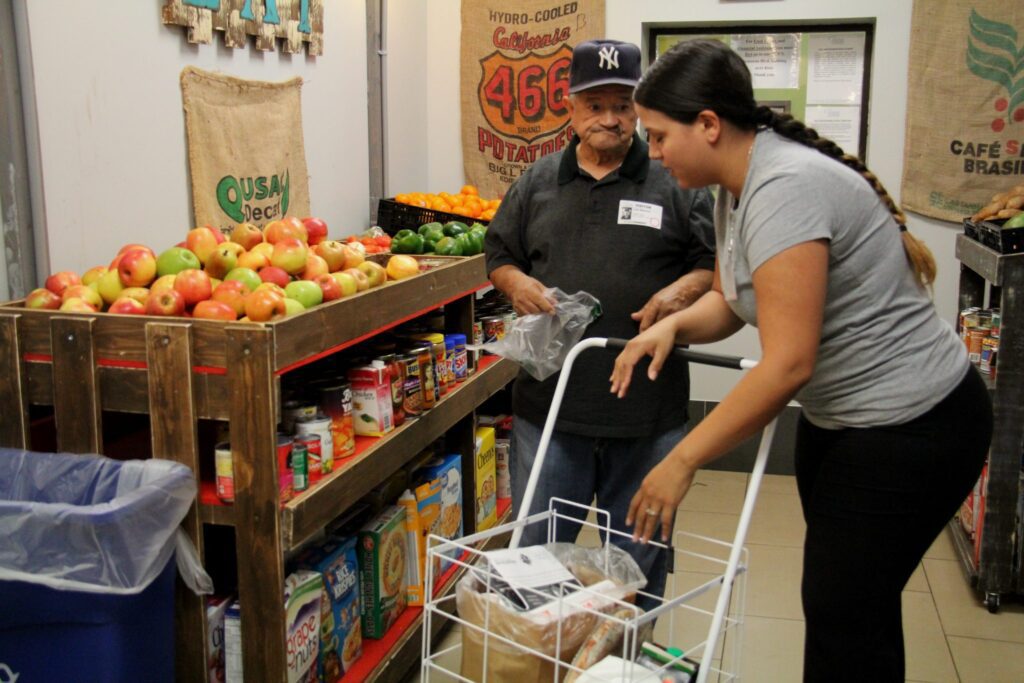 Stacey Brown examines a selection of fruits and vegetables before placing her daughter's favorites into her cart. Struggling to put food on the table, Brown is grateful for the new Mission Market at Catholic Charities of Central Florida where she can pick healthy food that her family will love.
"When you're on a budget in a single-family home, it's tough," said Brown. "This is amazing!"
Through gifts to Our Catholic Appeal, Catholic Charities helps more than 69,000 people each year with food, housing, healthcare, and adoption services. Working together with parishes and community partners, the organization provides fresh food and non-perishables to those who do not know where they will get their next meal. In the aftermath of Hurricane Irma last year, Catholic Charities was able to quickly mobilize emergency food and water to provide relief to those without power and recovering from the storm.
"Through that Eucharistic presence in us as Catholics, we have that opportunity to take food and share with those in need," said Gary Tester, Executive Director of Catholic Charities of Central Florida. "We not only assure them of another meal, but also that they're cared for in every way possible."
By Elizabeth Wilson, Florida Catholic Correspondent – January 31, 2018