'When you see this man, you get a sense of compassion and love'
Father John Giel, Vicar General, Chancellor for Canonical Affairs and Pastor of St. Paul Catholic Church, Leesburg, is present during the inauguration of Pope Francis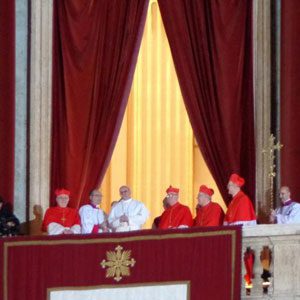 Standing shoulder to shoulder with his brothers and sisters in Christ, Father John Giel, VG, JCL, Vicar General and Chancellor of Canonical Affairs for the Diocese of Orlando and Pastor at St. Paul Catholic Church, Leesburg, was among the estimated 250,000 faithful who packed St. Peter's Square in Rome March 19 to celebrate the inauguration of Pope Francis as Bishop of Rome and successor of St. Peter. Father Giel said the ceremony and accompanying celebration of Mass were joyful and spiritual events, marked with highlights at the hand of the Holy Spirit.
"It was a wonderful experience," said Father Giel, who at one point stood about 200 feet away from Pope Francis as he moved through the crowd. "When you see this man, you get a sense of compassion and love. You don't quite see that on TV but when you see him in person, you feel a sense of love. It was a very spiritual experience."
Father Giel and Steven Bradley, a parishioner at St. Paul Catholic Church who arranged for the trip just days before the Inauguration Mass, arrived at St. Peter's Square two hours prior to the start of the celebration. Father Giel said that early on, spirits were high as music and prayers filled the air and Catholics from around the world celebrated together. At one point, Father Giel spoke with a girl from Argentina, who knew the Pope personally from his days as Archbishop of Argentina.
When Pope Francis arrived around 8:30 a.m., cheers erupted at a "fever pitch" as the crowd clamored for a glimpse and a blessing from the new pontiff. Father Giel witnessed firsthand Pope Francis' widely publicized act of stepping out of his vehicle to kiss and bless a severely handicapped man. "It was a touching moment," he said.
Another notable moment occurred when Pope Francis, accompanied by the cardinals, went to the Tomb of St. Peter, incensed it and prayed before processing to the altar at St. Peter of Basilica. "It was completely silent during the entire presentation," Father Giel said. "People were glued to the big screens. It was very reverent and prayerful."
Still, Father Giel said one of the most beautiful moments of the day happened at the end of Mass when Pope Francis made reverence to the Blessed Virgin Mary and the congregation broke out in song, singing "Salve Regina." He said in the United States the song is generally only sung by priests because it is sung only in Latin. Hearing the laity sing the holy song touched the priest's heart.
Reflecting on the day's events, Father Giel said he sees Pope Francis as a pope for the world.
"He brings a new hope, a new understanding to the Catholic Church," he said. "I think we are in for some change, some positive steps, guided by the Holy Spirit, in the Church. The decision made by the cardinals to elect Francis was centered on prayer more than anything else, and that is what we really have to see — God's Spirit at work in our lives and in our Church."
Picture courtesy of Birgit Catalan.