ORLANDO | "Hey, hey. Ho, ho. Roe v. Wade has got to go!" Catholic youth from the Diocese of Orlando chanted and marched along the National Mall Jan. 24, shoulder to shoulder with an estimated 75,000 pro-life advocates. The feeling was electric. They heard the president speak and met the daughter of a saint along the way.
Represented in the 47th Annual March for Life in Washington, D.C. were students from Bishop Moore High School in Orlando, Santa Fe High School in Lakeland, and youth groups from St. Joseph and St. Matthew Parish in Winter Haven.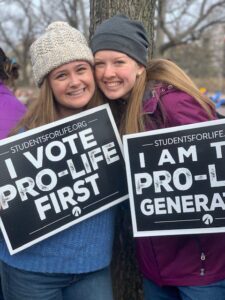 Santa Fe 10th grader, Maria, couldn't believe her good fortune when she saw Gianna Emanuela Molla, the daughter of St. Gianna Beretta Molla, patron of unborn children. Maria spoke to her and gave her a heartfelt hug, showing her the saint's image on her keychain. When doctors discovered the saint had a tumor during her pregnancy, she sacrificed her own life for the baby. The valiant mother died one week after the birth of her child. Today, Gianna Emanuela travels the world sharing the story of her mother's unconditional love and stopped a moment to extend it to students from Central Florida.
Maria admits she was not dedicated to the cause until last year when she attended the march for the first time. "For a long time I wasn't dead set," Maria said. "Last year had a huge impact on me. For someone who is not biased either way, if you go to the marches and see for yourself what they're fighting for, it really makes a difference." This year, she reaffirmed her ideals. "There are thousands of people surrounding you, protecting life, not focusing on anti-abortion." When she heard the president would speak, she worried it would become political. "But I noticed that so many people from so many groups, Republicans and Democrats were there," she said. "So, it wasn't a march for Trump. It was a march for everyone."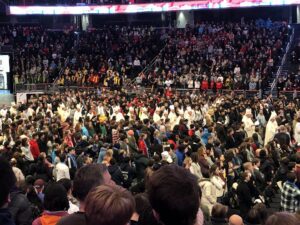 The sophomore credits social media with helping herself and her peers land the name 'pro-life generation'. She said, "Social media has become a useful tool because it's easier to spread information. It helps people understand different views, especially on abortion. In the past, the pro-life movement and the March for Life didn't get a lot of media coverage. But through Twitter, Instagram and Facebook, we let a lot of people know that we're here. We're here to stand up for those who can't."
She's not wrong. The smiling crowds flooded social media with quotes from famous pro-life U.S. presidents like Abraham Lincoln and Ronald Reagan. They also emphasized this year's theme "Life Empowers: Pro-Life is Pro-Women." Something these young people believe whole-heartedly. "Pro-life is pro-woman is a way of saying that pro-life is not anti-feminism," explained Maria. "It means the rights of women start in the womb because that is where you first live, breathe. You have your first heartbeat. You have your first everything."
Adding to her commitment is the fact that her older sister became pregnant at 18. Maria was 5 years old. Despite her fears, pressure and judgments from others, her sister chose life. "She is a mentor for me – someone I look up to because she chose to have her child anyway. My niece (now age 10) is a beautiful and amazing person. If she'd been aborted, I would never have had that friend. I think of that during the March. That could be anyone. That could be your sister, your older brother, mom or dad. Her choice, despite culture and society being against that, is the main thing that makes me pro-life." Thinking of her niece, she added, "I have so many memories of her – Christmas, teaching her how to make our family recipes… I just can't imagine life without her."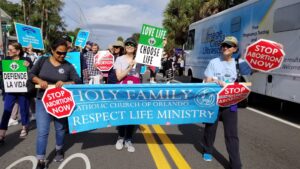 Bishop Moore junior, Sarah, echoed that thought. "The phrase, 'You are a joy' is what I heard the Lord speak to me while I was at the March for Life in D.C. As an adopted child, I want to share that all babies are a joy, and I am so thankful that my birth mother chose life."
They hope to participate in future marches and, like one speaker said, be pro-life all year long. "You get pumped up," Maria said with excitement. She has no fear about dissenters among family and friends. "You just have to continue (defending life)," she said. "You just try to be polite, but also state your opinion."
By Glenda Meekins of the Florida Catholic February 03, 2020