The fact that fewer couples are committing to marriage is not news. In fact, Pew Research indicates only half the adults in the U.S. are married—mostly because couples are opting to live with their partners and raise children outside of the marital covenant. In the secular world, marriage is almost frowned upon, so that marriage as a Sacrament fulfilled through, with and in the love of God is portrayed as outdated.  It seems even less are willing to offer this Sacramental commitment.  So, we asked, What is the secret to a successful sacramental marriage?
Shirley and Earnest Maxwell from Ascension Parish in Melbourne celebrated their 66th anniversary on Jan. 2. The couple met at a dance when Shirley was just 17-years old and Earnest was 20. He was a tall, sandy haired sergeant in the Air Force with "a nice build," and blue eyes that caught Shirley's attention. "He was easy to talk to. He was so much fun," Shirley said with a laugh remembering their courtship. "It so happened that he had become Catholic just seven months before I met him." Still, her mother did not like the fact that he was in the service.
The couple was married two years later, urged by the fact that Earnest was being sent to California. Over the next several years, they moved around as is typical with military life. "All the bases had a chapel and we went to church every Sunday," said Shirley. She attributes that practice as the foundational success for their marriage.
Shirley said raising her four children have been her greatest joy. It was often stressful trying to balance her work in civil service and motherhood, especially while Earnest was away. She recalled that it was most difficult when, nine years after the birth of three children, she discovered she was pregnant again. They lived in Melbourne at the time and Earnest was given the choice of a position in the Florida Keys or going to Vietnam, she recalled. Struggling with the difficulties of being on her own, juggling work, motherhood and the physical absence of her husband and greatest supporter was not easy. "But we weathered the storm," she said. "Even when things were hard, divorce was never in our brains." Both she and Earnest's parents had solid marriages and had been great role models.
"Faith helped through good and not so good times," Shirley added. "If you put the Lord first in your life, it's much easier. And of course, love, compassion and patience help."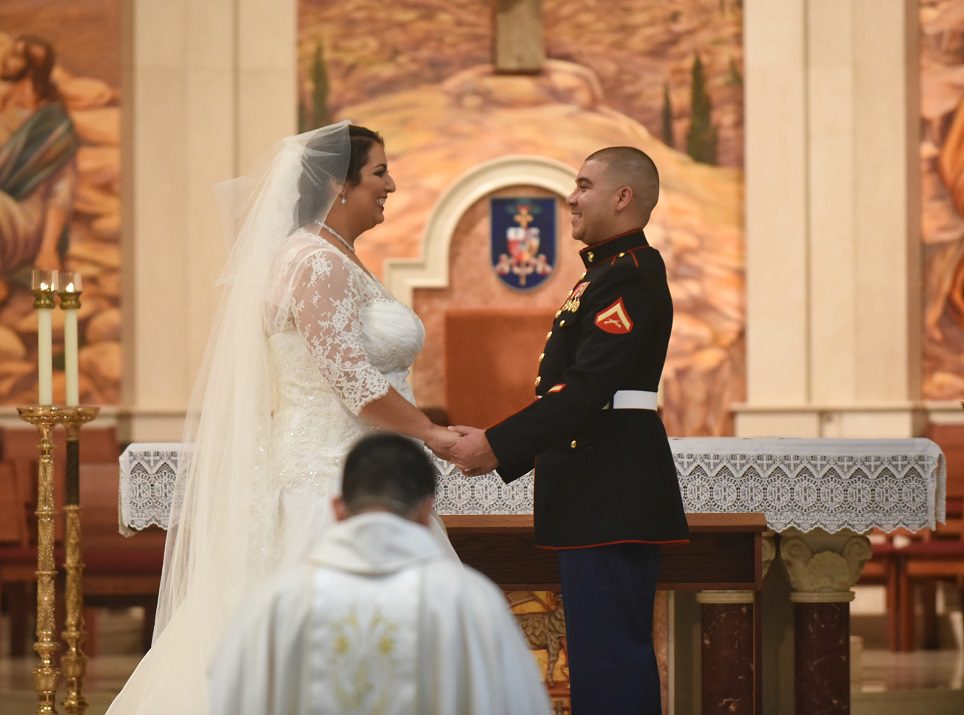 Natalie and Jon Canteros dated three and a half years before launching on their journey into marital bliss. They met through friends. Natalie agrees attending Mass helps strengthen the marriage. Wed on Oct. 21, 2017 at their home parish, St. James Cathedral in Orlando, Natalie says, "We make it a point to go to church together and pray together. When we go to church, if we've been arguing or if we disagree on something, it always brings us back to the beginning, reminding us what we find important about each other, what we love about each other, and it humbles us and grounds us."
Pre-Cana classes were a significant part of their preparation as well. Natalie said it helped them look into all areas of their marriage and discuss them so that they could be on the same page. Father Martin Nguyen married the couple and recalls, "I was inspired by how seriously they took it (the Sacrament of Matrimony) and very touched by their understanding of the grace that the Sacrament bestows on their commitment to each other."
Natalie says it is because, "God's always been a part of my life and Jon's. I feel as though God is always there and it is something that we have in common." Jon adds that faith in God helps him show his wife what she truly means to him. "If it wasn't for God, I would never have had the opportunity to meet her, let alone start a wonderful life with her," he said. "Having faith in a marriage, in my eyes, is the crucial backbone to a family. I feel that we show God's love in the love that we have for each other."
Having respect and consideration is also something that Natalie and Jon hope will help them navigate the joys and storms that come their way. "Keeping that open line of communication is going to make this last," Natalie says confidently. "Continuing to have God in our relationship, and trusting him through our marriage and letting him guide us will help us as we start our family."
By Glenda Meekins of the Florida Catholic – January 24, 2018
You're Invited to the Mass for Marriage!
All married couples, their families and all who support marriage are invited to attend the Mass for Marriage. This year, to help commemorate the 50th Anniversary of the Diocese, the Mass will be celebrated at the Basilica of the National Shrine of Mary, Queen of the Universe (8300 Vineland Avenue, Orlando, FL 32821) on Saturday, Feb. 10 at 10:00 AM.
All couples attending are invited to have their picture taken with the Bishop by a professional photographer. (Pictures are with the couple and Bishop only). Photos will be available to view and print from a designated diocesan website several days after the Mass. Light refreshments will be served following the Mass.