"Master, we do not know where you are going; how can we know the way?"
Jesus said to him, "I am the way and the truth and the life.
No one comes to the Father except through me." John 14:5-6

Bishop Noonan Announces Development of New Video Series, The Way, The Truth, and The Life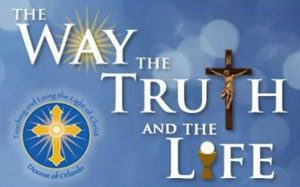 At the dawn of this new liturgical year which began Dec. 1, Bishop John Noonan announces a new Diocese of Orlando video series that is aimed at helping people to know the core tenets of the Catholic faith and just as important, how to integrate those tenets into daily life.
"I could have written a pastoral letter for teaching the faith, but since today people are learning in more visual ways, it seems to make sense to create videos for teaching and connecting with today's culture," said Bishop Noonan.
The video series is part of a year-long campaign called "The Way, The Truth and The Life" to educate the community on the key components of the faith upon which our understanding of life, marriage, religious and personal freedom are predicated. Bishop Noonan hopes to focus attention on the new diocesan vision, "Teaching and Living the Light of Christ" with an emphasis on educating Catholics about life, marriage and the freedom that comes from God. This includes a strong connection to the Sacraments and social teachings of the Church. Resources have been developed for parishes, schools and clergy to discuss these issues and teachings in a more comprehensive and integrated way.
"My hope is that as believers we can witness our faith in the community by our actions and words," said Bishop Noonan.
Many offices in the Diocese of Orlando chancery contributed to creating the videos and resources for the campaign including Advocacy and Justice, Family Life, Faith Formation and Communications.
"The Way, The Truth, and The Life can help Catholics understand and reinforce our beliefs about life, family, and discipleship. The great thing about these materials is that they can be utilized in various arenas and formats within the parish, school and home and can spark discussion, reflection, or faith-sharing. It truly is an epic undertaking which we will be helping our parish communities to take full advantage of in the coming months," said Dennis Johnson, Jr., senior director, faith formation and secretary of the secretariat for evangelization and family life.
The videos and scripts were reviewed by Father Jeremiah Payne, who is Assistant Professor of Systematic Theology at St. Vincent de Paul Regional Seminary. He sees this campaign as a part of the new evangelization which is a vital call to action first issued by Blessed John Paul II.
"The New Evangelization demands that we, as Catholics, engage people with the Gospel of Jesus Christ in new and unconventional ways. Our world encounters information at a lightening-speed pace through all forms of the 'new media.' Jumping into this 'new media' the Diocese of Orlando has created a website with several short, excellent videos about the Faith that can be used in catechesis, during homilies, and linked to the blogs and social media sites of the faithful. We have a tremendous new tool as we labor in the Lord's vineyard towards a "New Evangelization," said Father Payne.
One central theme in all the videos is the topic of the dignity of human life. "Life can become a political issue. We often speak of it with our head not our heart. Life comes from the heart. We are called to share this vision of the gift of life," said Bishop Noonan.
"How do we reach out to young couples welcoming life? How do we reach out to the young girl, pregnant, alone, no support, wondering what to do with her life?" added Bishop Noonan.
"We need to see life from God's perspective and celebrate all of life. Life is not a burden. Life is a gift from God. That is why we care for the elderly and we pray for an end to the death penalty and euthanasia. We respect life throughout all its stages. We accept people as they are. We see Christ in each person," said Bishop Noonan.
He hopes the educational initiative will help the Catholic community to see that life and love are always integrated and there is no place for hostility and animosity.
"We begin conversations with love," said Bishop Noonan.
Editor's Note
"The Way, The Truth and The Life" is comprised of 8 videos that can be found online at www.orlandodiocese.org/waytruthlife.
The videos are titled:
Family: A Community of Love
Freedom: Gift and Responsibility
The Meaning of Life
Love – What's the Point?
Marriage: God's Gift of Love Sustains You
Personhood: More than Meets the Eye
Science and Technology: To Go Where God Leads Us
Signs of the Times: A Catholic Perspective
All videos and resources will soon be available in Spanish as well.