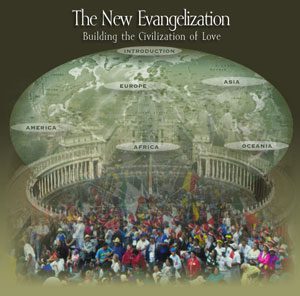 The General Secretariat of the Synod of Bishops, having concluded the institutional proceedings of the 13th Ordinary General Assembly dedicated to the theme "The New Evangelization for the Transmission of the Christian Faith", which took place in October of 2012, has begun preparing for the 14th Ordinary General Assembly scheduled for 2015, according to a communique issued today by that secretariat.
The fourth meeting of the 13th Ordinary Council was part of the process of choosing the theme for that Assembly. On 13-14 June of this year, its agenda was to discuss the proposals for a theme that were submitted by the Synods of Bishops of the Eastern Catholic Churches "sui iuris", the episcopal conferences, the dicasteries of the Roman Curia, the Union of Superiors General, and institutional organizations consulted in cooperation with the synod's activity.
The discussions began with an address by the secretary general of the Synod of Bishops, Archbishop Nikola Eterovic, who referenced the Year of Faith currently in progress during which historical events have taken place, such as the Benedict XVI's renunciation of the Petrine ministry and the subsequent election of the new Bishop of Rome, Pope Francis.
Participating in the work of the fourth meeting of the 13th Ordinary Council were: Cardinal Wilfrid Fox Napier, O.F.M., archbishop of Durban, South Africa; Cardinal Peter Kodwo Appiah Turkson, president of the Pontifical Council for Justice and Peace; Cardinal George Pell, archbishop of Sydney, Australia; Cardinal Peter Erdo, archbishop of Esztergom-Budapest, Hungary, and president of the Hungarian Catholic Bishops' Conference and the Council of European Episcopal Conferences (CCEE); Cardinal Oswald Gracias, archbishop of Bombay, India and secretary general of the Federation of Asian Bishops' Conferences (FABC); Cardinal Odilo Pedro Scherer, archbishop of Sao Paulo, Brazil; Cardinal Donald William Wuerl, archbishop of Washington, DC, USA; Cardinal Luis Antonio G. Tagle, archbishop of Manila, Philippines; His Beatitude Sviatoslav Shevchuk, major archbishop of Kyiv-Halyc, Ukraine; Archbishop Bruno Forte of Chieti-Vasto, Italy; Bishop Santiago Jaime Silva Retamales, auxiliary of Valparaiso, Chile, and secretary general of the Latin American Episcopal Council (CELAM).
Pope Francis received the participants in an audience on 13 June. Their meeting then continued in two language groups, English and Italian, during which the members were able to examine the criteria and rationale for the choice the the next Assembly's theme with the goal of deciding a few options to be presented to the Holy Father for the final choice. At the same time, the date of the Council's fifth meeting was set for 7-8 October of this year. Work concluded with a prayer, entrusting the synod's future activity to the intercession of the Blessed Virgin Mary, Mother of the Church.