Third grade students at Divine Mercy Academy in Merritt Island are learning reading, writing, arithmetic, and robotics! Thanks to a generous gift from friends of the school Dominic Lauretta, Jason Shye, and Bill Ross, Divine Mercy Academy received ten learning robots that the students assembled and programmed from beginning to end. The project is part of a larger STEM (Science, Technology, Engineering, and Math) focus at the school.
Students at Divine Mercy begin to learn computer programming in the first grade and build upon what they learn each year as they take on increasingly complex projects. Don Stacy, the father of one of the third graders, worked with the technology coordinator to guide the students in building the robots. The students used Scratch, a graphic programming language and learning tool designed by the Massachusetts Institute of Technology (MIT). Through the lessons, students acquire the working knowledge of architecture, structure, and components of a program. By thinking in an orderly, and logical manner, and working through a step-by-step process to create the robots, students gain skills not restricted just to engineering, but are transferrable to any academic or occupational pursuit.
"The only pre-requisite to learning how to program is the ability to read," explained Stacy. "Because the world of programming itself is boundless, the more you learn, the wider your horizons become and there's really no limit to what you can do. It's great for them to be able to get in on the ground floor for something they are going to be seeing the rest of their lives. Most people just click on icons but these kids are executing commands."
Amelie Stacy and Barrett Mrdjenovich are two of the students who built and programmed their own robots, named Hulkbuster and Barry. The students said they enjoyed learning how to make the robots follow specific commands.
"It was fun," said Amelie. "I liked it when the light did not turn red because a red light means something is disconnected." Barrett agreed saying, "My favorite part was making the robot pop wheelies as I was learning what I was doing."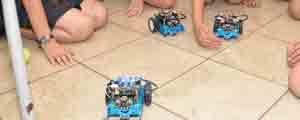 Both Amelie and Barrett say they are interested in continuing to learn more about programming, and with their school located near the Kennedy Space Center, Dr. Anne-Marie Sutch-Stabio, Divine Mercy Academy director of development, believes they are being uniquely set up for success.
"With the space program changing the way it is and new companies coming in, this is the skill set that they're going to be looking for," said Sutch-Stabio. "I think we're hoping to set the students on a path that will really provide them a lot of opportunity. They have a foundation for these employers in the future."