ORLANDO |Religious of the Diocese of Orlando joyfully gathered for the annual Sisters' Jubilee Mass, celebrated by Bishop John Noonan. Honoring three of their own at San Pedro Spiritual Development Center, Oct. 20, the bishop thanked the Lord "for the gift of each and every one of them."
At the luncheon after Mass, the bishop recognized Sister Ita Hickey, S.F.C.C.  for her healing touch among the many sick to whom she ministers. He thanked Sister Mary Lois Best, S.N.D. for her care of the sick and dying and Sister Joan Grace, R.S.M. for her many years of work in parish schools and as chaplain at a local Melbourne hospital.
The three religious ministered to the young and old, and reminisced about their varied experiences. The bishop noted how some who came from Ireland with woolen habits later traded them for cooler fabric to adjust to the Florida heat. "We are blessed to have these three ladies," said Bishop Noonan.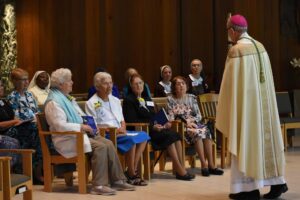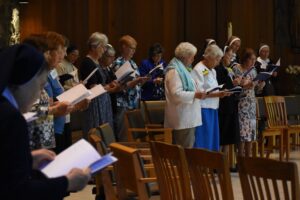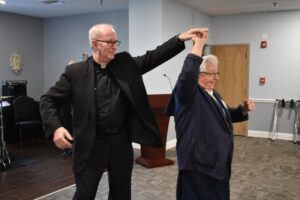 This year, the Diocese of Orlando recognizes three religious sisters who are celebrating 65 and 60 years as consecrated religious. We honor them for their ministry of love and dedication to serving others for the greater glory of God.
Sr. Ita Hickey, S.F.C.C.
Celebrating 65 Years
The moment Sister Ita Hickey was born, the bells at the parish across the street began to loudly toll the call to prayer, causing
her mother to wonder, "What child is this that she is  welcomed by our church bells!" Raised in Dublin, Ireland Hickey was the middle daughter of a large family with seven boys and seven girls. She loved dancing, swimming, and hiking with friends and family.
"Though I was a normal girl, I believe that the hand of God was on me throughout my entire life," remarked Sister Hickey.
Sister Hickey followed her best friend to the Poor Clare order in 1953. Coming from such a large family, Hickey was no stranger to community life, but she was delighted to find she would have a room, bed and closet all to herself!
"God blessed me with the gift of healing as well as inner peace," said Sister Hickey, who described the healing of a sister in her care as one of the most monumental events of her life.
The gifts of healing and inner peace remained with her as she served in Ireland, England, Scotland, Wales, California and presently in Florida where she has been for more than twenty-five years. One of her first assignments in the Diocese of Orlando was as the director of volunteers at the Basilica of the National Shrine of Mary, Queen of the Universe. She arrived in 1993 when the Shrine was still in the early building stages. "My work with the volunteers was extremely rewarding and some remain friends to this day," said Sister Hickey.
During her years at the Shrine she also cared for premature babies and the staff at Arnold Palmer Hospital. "What a blessing that was! I sang Irish songs and shared my healing gift with these tiny babies," remembered Sister Hickey.
After eight years at the Shrine, Hickey felt called to devote her time to inner peace work. She transitioned from the Poor Clare to the Sisters for Christian Community in 2003 and began another chapter in her life of prayer. "God has shown His great love to me throughout my life," said Sister Hickey. "May He always be praised and loved!"
Sr, Mary Lois Best, S.N.D.
Celebrating 60 Years
Sister Mary Lois Best was raised in Cleveland, OH and says her Catholic upbringing, including religious items around the
house, family parish involvement and an emphasis on living  the Gospel, made all the difference to her as a child.
"I still hear my parents saying, 'God always knows better than  we do what's best for us'," remembered Sister Best. That advice rang loud and clear after years of school, work and an active social life left Sister Best thinking, "There's got to be more to life than this!"
That longing led to her praying, "God, let me know what You want me to do, and I'll do it." Soon that prayer would be answered. "Not feeling like my love could be held down to just one person and family and in response to the call of our good God, I entered the Sisters of Notre Dame," said Sister Best, who prayed as she entered, "God, if You don't want me here, get me thrown out!"
Sixty years later Sister Best is still happily living out the charism of the Sisters of Notre Dame as an example to all she encounters that "our loving God is good and provides all that we need." With Mary as their model, the sisters say "yes" to whatever God asks of them. For Sister Best that "yes" had her teaching high school for many years in Ohio, Virginia and California, but recently has brought her to minister to elderly, sick and dying – and their loved ones.
"Would that I could help more people face gracefully and gratefully the inevitable: aging and eventually being birthed into the fullness of life forever!" remarked Sister Best. Her work is a daily reminder to live in the "sacrament of the present moment," saying, "it is the only time and place to encounter God, so to live happily now as well as 'ever after'!"
Sister Best says that celebrating her jubilee is a time of great gratitude and it is a chance to reflect on how her relationship with God has changed over the decades. "Earlier in life we think, 'Lord, help me', but my latest prayer is, 'God, just do whatever You want through me. Don't let me get in Your way!'"
Sr. Joan Grace, R.S.M.
Celebrating 60 Years
As a young novice, Sister Joan Grace, R.S.M. wasn't even sure she wanted to be a nun. She admits even close mentors suggested she might be a better wife and mother, but she also says the Lord knew better.
"God's plan for me was bigger than the plans I had for myself," shared Sister Grace. She is the fifth of seven children and
"graced the Irish soil," as she says, in Portoe, Ireland. She grew up praying the rosary every night and feeding the many animals on her family's farm early every morning.
She admits to growing up in Florida too as she came so young and found her new world somewhat daunting. Sister Grace said the words of the Sisters of Mercy's foundress, Mother Catherine McAuley, gave her strength, "while we place all our confidence in God, we must act as if all depended on our exertion."
She took those words to heart and earned three degrees in her 42 years as a teacher at St. Mary's Catholic School in Rockledge. "Seeing the children achieve and work hard and helping those who found the subject difficult was a joy," she said, adding that she particularly enjoyed helping them emotionally and spiritually. "To meet them out in the world and see how they have coped, learned and become such wonderful citizens is especially rewarding. I always believed I was educating the CEO's of the future."
For the past 12 years, Sister Grace has been ministering to the sick in Brevard County hospitals. Patients simply dial "AMEN" on the phones at Rockledge or Melbourne Regional Medical Centers and she is on the way with much-needed prayer. "Being available for family and people who are sick, being there with them, praying for them – it's been such a blessing," she said. "I bring the Lord with me to the hospital."
She said participation in daily Mass and reception of the Eucharist help her bring "positivity" and hope to her patients. "That is my lifeline," she explained. The nourishment she receives from the "daily bread" is passed on to help others. Her cheerfulness is also catching as she greets everyone from patients to staff with a big grin and a "God bless you".
"My philosophy is to smile as much as possible through the day," she insisted. "I am just so happy to be a nun now and being able to serve God through all these people. The Lord has been extraordinarily good to me."
As the luncheon celebration closed, Sister Hickey summarized the sentiment of these three religious well, pointing to her own experience. She said, "II think of the day He called me. I have a great sense of confidence. I know that I'm taken care of." It is this assurance that radiates throughout their work and care of others.
By Elizabeth Wilson, Florida Catholic Correspondent – October 18, 2018