OCALA |Ed Prusak volunteered to serve in the Navy upon high school graduation and served as a gunner's mate in World War II. His decision to serve his country, supported by a deep faith, would transcend his lifetime through three generations. Although he passed to eternal glory almost two years ago, his commitment to his faith, family and country live on through his son, Christopher "Chris", and his three granddaughters, Victoria "Tori", Cassidy "Cassi", and Alexandra "Lexi". This Veterans Day, as is tradition, his family remembers and is grateful.
"His story is inspirational considering his humble roots," remarked Chris. Ed's mother died when he was about 4 years old and his father took his own life when Ed was 13, forcing the brothers to be split between two relatives. He worked to support his family throughout high school and put himself through college. "He had to struggle with everything," said his wife, Trudy. "His background should have led him to a lot of anger and yet he was the softest, the sweetest kind of man. He was such a gentle soul." The former 4th degree Knight of Columbus shared this gentle strength with his community of Blessed Trinity Parish in Orlando in a big way. Founding the Men's Club and forming part of many ministries with Trudy, the couple modeled a life of joy in sacrifice, poured out for others.
Married in 1952, Ed and Trudy adopted three children with the help of Catholic Charities Adoption Services – David, Nancy and Chris. "They raised their children in a home committed to our faith, country and community," recalled Chris. He said volunteering for church ministries was a way of life for the Prusak children because this is what their parents did daily.
Chris, now a retired Air Force Lieutenant Colonel, credits his family's many trips to air shows with the seeds that bore fruit in his military career. "He opened up my love of airplanes and my love of flying," noted Chris. "Financially, the Air Force was the best method that allowed me to live that dream. It also allowed me to take that love of my country to serve our country. It truly opened my eyes to what a special privilege and honor that is."
Chris said, "It started with always seeing my father give of himself to everyone around him. First, it was his faith, then it was his family, and then our community. He always placed himself last. It was living in witness to his example in all the sacrifices he did on a daily basis."
Cassi, Chris's daughter, saw these characteristics live on in her father. "My dad and grandfather serve as incredible role models through how they treat others. Each of them served our country, but aside from that, as I was growing up they both exemplified Christ in their day to day life. Their interactions with others was always loving. They gave me and my sisters incredible examples of how to raise and be a part of a family. The Air Force and each branch has a huge emphasis on taking care of ones people; both my grandfather and my dad were given room to be great in the service and great fathers at home."
"I have an awesome amount of pride in my husband, for what he did and instilled in our children," added Trudy. "Everything was geared to God and country for him. He gave this feeling to all of our kids, but Chris really picked up on it."
Chris' wife, Cheryl, also grew up with a military influence. Her father, Gordon Titus, is a Korean War veteran. Although he does not like to speak much about the war, Cheryl says, "I think he would say it was a necessary part that he played. He's proud of his service."
Cheryl said it was the constancy of Catholicism, found in parishes throughout their military travels, that brought about her conversion to the faith. "No matter where we lived we tried to go to church," she said. She recalls participating in Masses celebrated in Latin and Italian. The process was a gradual one, but "definitely a calling," she says.
Both Chris and Cheryl say they never questioned that Chris would return from his four tours in Desert Storm or his other assignments. "It's the belief that God has us in the palm of His hand and it might not work to our plan, but His plan is perfect. So, why stress?"
Once the couple settled in Ocala, they joined Blessed Trinity Parish and their three daughters attended Blessed Trinity Catholic School and Trinity Catholic High School. "It was important for them to get a Catholic education because the things that Chris and I would talk about at home were talked about freely in school," explained Cheryl. Chris added, "Their schooling helped influence who they are. It wasn't just mom and dad, grandma and granddad. It was their interactions with their teachers and classmates that reinforced their calling to serve our country."
Cassi, 20, is a cadet in the Air Force Academy and a testimony to that experience. "My faith is integral to my day to day life… The chance to be a part of something greater than myself motivated me to join the service," she notes. "Being in the Air Force, we are surrounded by people of all different backgrounds. This gives me a unique chance to empathize and better understand others around me. Being a witness of Christ in my daily life is about how I conduct myself in the unit. What I say, how I act, and the rationale behind my decisions all provide me opportunities to be a witness for Christ." Slated to graduate in 2020, she plans to attend Specialized Undergraduate Pilot Training (SUPT) with the goal to fly combat aircraft.
Her sisters also pursued military service careers. Tori, 24, is a coxswain in the U.S. Coast Guard. As captain of a 47-foot motor life boat meant to rescue and operate in seas in excess of 30 feet, Tori's unit is one of few stationed worldwide.
Lexi, 18, is also pursuing her love of aviation in the Air Force. She plans to attend SUPT after graduation in 2022. She received her acceptance letter on the first anniversary of her grandfather Ed's passing. Trudy is convinced that it was not coincidence, but Lexi's dziadzi (grandfather in Polish).
"I'm watching three young ladies embracing that there's more about life than just their needs, their wants and their desires," exclaimed Chris. "They understand that we all need to make some sacrifices for the good all the citizens of our country, not just addressing their individual wants, needs and desires. …it makes me swell with pride. Every morning when they wake up and go to sleep, they can look in their mirror and realize that they did something for the needs of their country as opposed to always watching out for their own good."
"I am extremely proud of them that they have the courage to chase after their dreams and the freedom to do so… They're living the life that God has planned for them," affirmed Cheryl.
"The Prusak girls' grandparents' lives started with adversity, but sacrifice and hard work provided their families with multiple opportunities and the privilege to serve our country," noted Chris proudly. "The Prusaks are just one example of the sacrifice we are grateful for this Veteran's Day because our faith based community has multiple families answering our Nation's calling to serve. To all our veterans current and past, thank you for serving a grateful nation."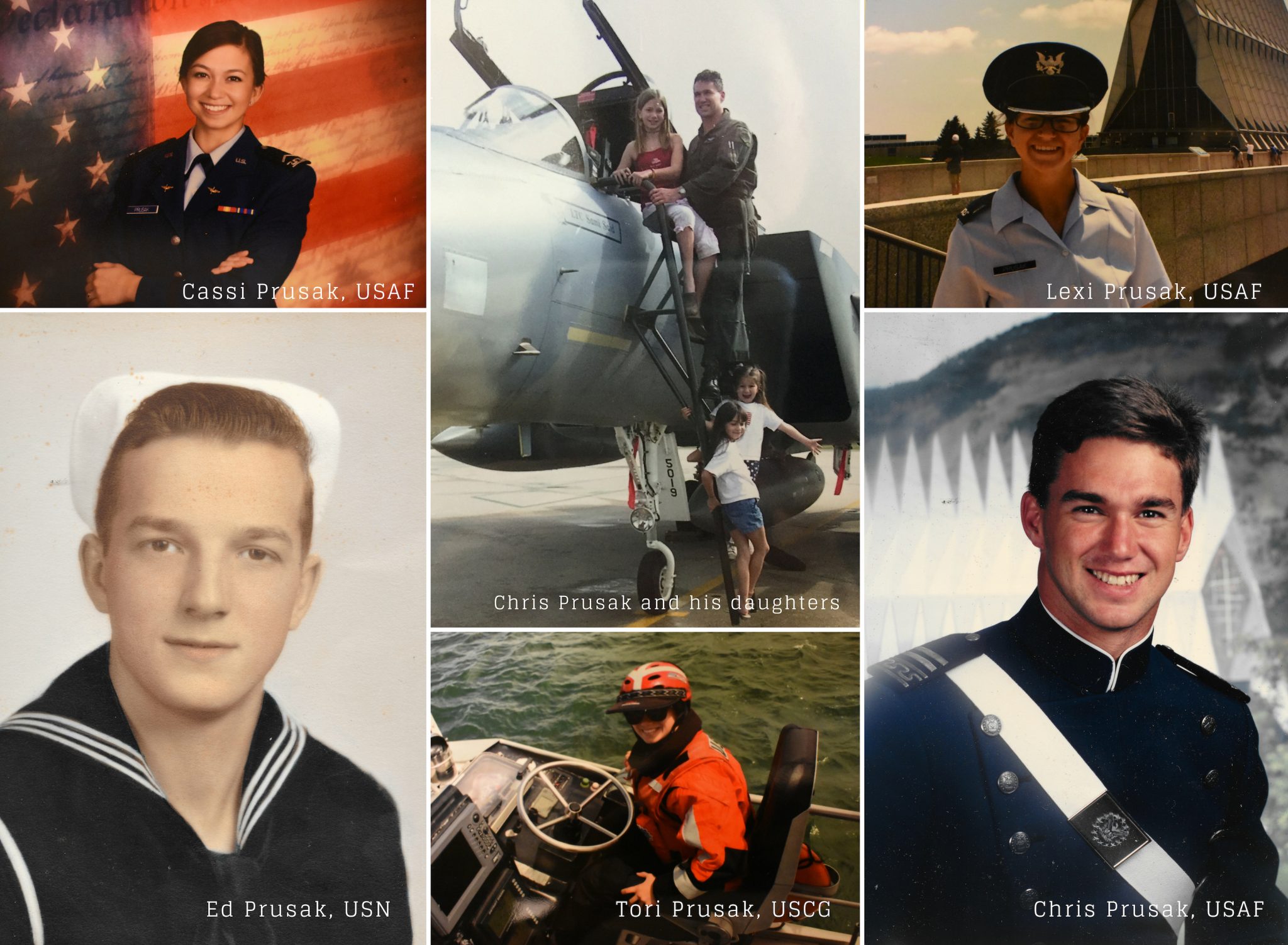 By Glenda Meekins of the Florida Catholic – November 7, 2018