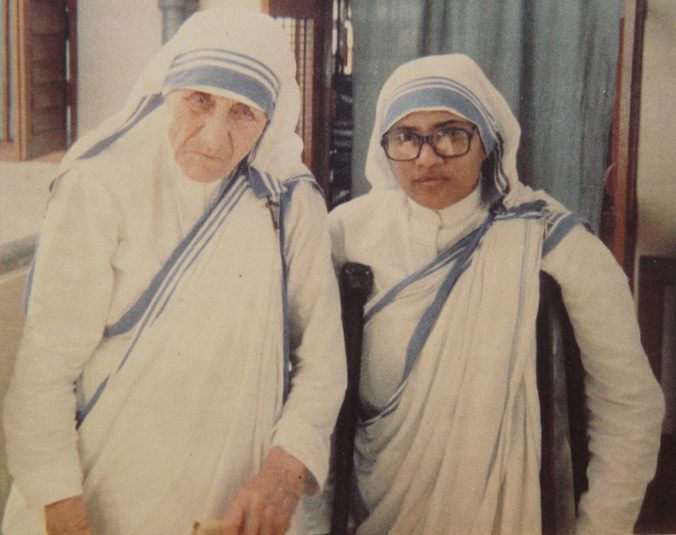 by Glenda Meekins
Even though she grew up in the south of India, Kalyani A. Raju grew up knowing nothing about Mother Teresa of Kolkata until she was in graduate school in the 1970s. It was through a series of events in her life that God's transforming grace led her to a life she would have never imagined for herself.
Mother Teresa's order, the Missionaries of Charity, began making headlines in the 1970s while caring for refugees dying from cholera who had migrated from Pakistan during the War of Bangladesh.  Raju began reading the book, Something Beautiful for God by Malcolm Muggeridge. At the end of the book was the address to Missionaries of Charity in Kolkata. "I had just started teaching in a college," remembered Raju, a parishioner of St. Margaret Mary in Winter Park. "I copied the address of the Mother House with one intention: when I get my first salary, in gratitude to God for my academic success, out of thanksgiving, I wanted to send my first salary to Mother Teresa for her work. However, you give Jesus an inch and He takes a mile," she laughed. "He not only wanted my first salary, he wanted all of my salaries. Jesus wanted me to give my whole hearted free service to the poorest of the poor."
She eventually wrote to Mother Teresa who invited her to come to Kolkata. She left the day she received the letter. She joined the sisters three days later. The morning after she arrived to the Mother House, she arose to find the sisters preparing for Mass. Asking to join them, they found her a place in the small chapel. At the Sign of Peace, she turned to find Mother Teresa looking into her eyes.
She professed her vows and became a Missionary of Charity in 1976. She cared for orphans at "Shishu Bhavan" – the Home for Children in Kolkata and also helped Mother Teresa in the area of adoption as well as becoming her personal assistant, answering letters and handling the large volume of correspondence that was received. She served until 1996 and then chose to leave the order because of a disability.
Raju describes 'Mother" as she affectionately refers to her, as the "anawim" a Hebrew word meaning the poor of Yahweh.  Raju said, "Mother Teresa's heart mirrored the Virgin Mary's humility of heart, purity of life and generosity of spirit." Raju was not at all surprised when Pope Francis announced that Mother Teresa would be canonized during the Year of Mercy, for as she put it, "She was someone who lived the blessedness of the beatitudes."
"She was the missionary who responded to the call of God to manifest His mercy in the misery around her cloistered convent, cost what it may." She added, "She lived what she believed, engaging in the corporal and spiritual works of mercy to the outcasts and rejects of human society day in and day out.  The gospel came alive through her missionaries ministering to the least of His brothers and sisters; seeking and serving Jesus in those forsaken by human society throughout the world."
Raju, who is 65, will be traveling to Rome for Mother Teresa's canonization September 4 and will stay with the Sisters of the Missionaries of Charity.