BOCA RATON | As song and prayer filled the church of St. Joan of Arc in Boca Raton, 15 men laid prostrate, laying down their lives before the altar of Jesus Christ. The Ordination to the transitional diaconate, which took place on Saturday, April 6, is the next step to the priesthood for these men, including Adam Marchese and Thomas Pringle, seminarians for the Diocese of Orlando. For Marchese, the impact of the day struck him right away.
"As soon as I walked through the doors at St. Joan of Arc, I saw an old professor from the college seminary and I broke down sobbing uncontrollably, said Marchese. "Seeing him made me reflect back on the journey. God has really been good to me and blessed me every step of the way."
An especially moving moment for Pringle came when Bishop Frank Dewane of the Diocese of Venice laid hands on each of the seminarians, invoking the Holy Spirit to come down on those being ordained. For Pringle it was the culmination of a six-year journey with his classmates, who had become brothers.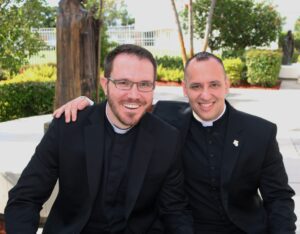 "We've walked with each other through countless triumphs, helped each other through the tragedies, prayed with each other through struggles in discernment, and celebrated the moments of growth," said Pringle. "Each of them have been given so many remarkable gifts that will bring others to Christ in ways that we can't even begin to imagine."
Over the next year, the new deacons will continue to prepare for the priesthood as they serve at local parishes. They will proclaim the Gospel, preach and teach in the name of the Church, preside at baptisms, witness marriages and provide comfort for those who mourn at funeral services. In his homily, Bishop Dewane reminded these men that while these ministries are incredibly important, their vocation is more than the work they will do.
"The work doesn't describe what you're called to do. What you're called to do is the love of Christ that you carry in your hearts," he said. "You will be called upon to demonstrate it in many different ways."
Marchese and Pringle are eager to put that love into practice. "I have been looking forward to beginning to serve for so many years and now I finally have the opportunity to start doing that in an official capacity," said Pringle, "That's what I'm excited for most."
Elizabeth Wilson, Florida Catholic Correspondent April 8, 2019