OCALA | Jesus asks us to "feed His sheep" and a handful of students at Trinity Catholic High School in Ocala are doing just that—literally. Meet Murphy, the newly adopted lamb cared for by the school's first Future Farmers of America (FFA) club.
Teacher Taylor Wear planted the seeds of this dream with students in her Agriculture Foundations course. Nearly three dozen students are now members and honing their leadership skills, "expanding the nation's view of 'traditional' agriculture and finding new ways to infuse agriculture into the classroom," says Wear.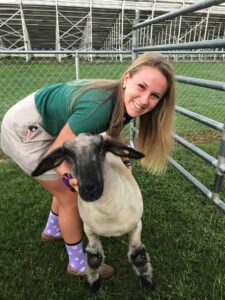 "Students will care for the lamb by feeding him every day, making sure that his water is fresh and cleaning out his pen," said Wear. They also exercise him about 30 minutes a day, making sure he can "set up" for the show. "This helps build up his stamina for show day in February. It also helps create a bond between the lamb and the students." Grooming is also part of the program. Students are learning how to shear, bathe and dry him.
Ashley is Trinity's FFA chapter president this year. The 11th-grader comes to the team with some experience. "I've always shown animals at the youth fair through 4-H, but I've never been able to show through FFA. Putting on our official dress jacket and seeing Trinity Catholic on the back is awesome because we are the first students that get to be a part of FFA at our school. It's like we're starting our own legacy."
"FFA members can be involved in a number of different activities," said Wear. "There is public speaking, citrus and horticulture judging, tractor driving, horse judging, livestock judging, etc." She noted, "People often think that to be in FFA you have to work with or show animals, which is not true. There is no real limit as to what FFA members can be involved in."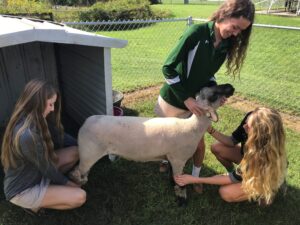 Nicholas, a 12th-grader is grateful for that opportunity. "I'm more interested in the agribusiness and public speaking side of FFA. I think showing animals at the fair is really cool, but I like debating and I feel I will do really well in those competitions – particularly the prepared public speaking. Ms. Wear told us there are a lot of scholarship and career opportunities available, especially if we do well in competitions and advance to the state level. Any chance to have some college paid for is something worth pursuing."
Wear is already looking forward to next year when she hopes to have twice as many students.
By Glenda Meekins of the Florida Catholic  October 30, 2019