Caregivers and care receivers are invited to attend one of two FREE seminar on Catholic Medical Care, Funeral Rites and Preparations.
When
Thursday November 3 from 7-9 p.m.
Most Precious Blood (113 Lockwood Blvd., Oviedo)
*Refreshments will be provided. Please RSVP to the Parish Office at (407) 365-3231 or online at www.oviedocatholic.org/legacy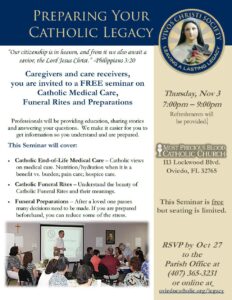 OR
Wednesday, November 16, 2016 from 12-2:30 p.m.
St. Joseph's Catholic Church (5330 Babcock St NE, Palm Bay)
*Lunch will be provided. Please RSVP by Nov 9 to St. Joseph's Parish Office at (321) 727-1565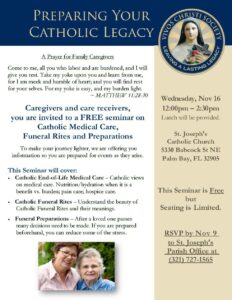 More Details
Professionals will be providing education, sharing stories and answering your questions so you are prepared for events as they arise:
Catholic End-of-Life Medical Care – Catholic views on medical care. Nutrition/hydration when it is a benefit vs. burden; pain care; hospice care.
Catholic Funeral Rites – Understand the beauty of Catholic Funeral Rites and their meanings.
Funeral Preparations – After a loved one passes many decisions need to be made. If you are prepared beforehand, you can reduce some of the stress.