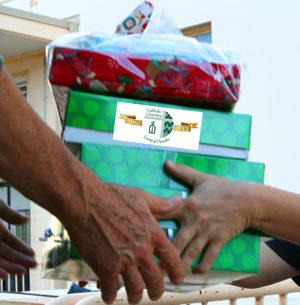 Through generous community sponsors, Catholic Charities of Central Florida's Western Region is providing Christmas gifts and Christmas dinner for close to two hundred struggling families this December. More than just presents for under the tree, these families will also receive a gift that keeps on giving long after Christmas morning: the gift of financial literacy. Every pre-registered family picking up gifts from Catholic Charities will have the opportunity to attend a two-hour financial education class that will teach the skills for greater financial stability.
"The class covers topics in budgeting, banking and credit," says Ameshia Jackson, Director of Catholic Charities' Family Empowerment Program. "We help with Christmas gifts, but we also want to give the gift of helping yourself."
Catholic Charities of Central Florida's Western Region serves the people of Polk County year round through the Agape Food Bank, Lake Morton Senior Center, food pantries, mental health counseling, pregnancy and adoption services, and the Family Empowerment Program. The Family Empowerment Program provides case management, coaching, mentoring and financial assistance, designed to move individuals and families from dependence to independence.
The next gift pick-up and financial education class will take place on December 17, 2012 from 10 a.m. to 12 p.m. at the Catholic Charities office located at 1801 E. Memorial Blvd. in Lakeland. Up to twenty people are expected to participate in giving themselves a Merrier Christmas and a brighter future.
Catholic Charities of Central Florida is the largest non-profit social service organization in Central Florida. Their mission is to provide vital social services for people in need regardless of their religious, social, or economic background, to improve lives of individuals, families and the community. These social services include emergency financial assistance, food, counseling, medical care, transitional housing and affordable housing programs.