The highest honor presented during the annual Light of Faith Award Ceremony is the Witness to Hope Award, which recognizes a parish that has excelled in the area of communications and evangelization over the past year. This year – two parishes were selected, a large and small parish. While the two vary greatly in size—St. John the Baptist Catholic Church in Dunnellon has less than 700 registered families, St. Paul Catholic Church in Leesburg has 2500 registered families—both have demonstrated a commitment to reaching out beyond their parish walls to spread the Good News.
In addition to the Witness to Hope Award, St. John the Baptist Catholic Church was recognized for its bulletins at the small parish level. Father Emmanuel Akalue, pastor, noted that the bulletin has become an important evangelization tool for a variety of ministries, including the Helping Hand Food Pantry and visits to the Hampton Manor nursing home by Ministers to the Sick.
"Before Jesus multiplied the physical food and bread for (the people), he had already fed them with the Word of God," explained Father Akalue. "We put bulletins and flyers in the packages from the food pantry so the people we serve don't just have material food, but spiritual food."
Father Emmanuel (pictured right) added that bulletins can be more than just a listing of parish social events, which is why he always includes his weekly homily and answers to questions people might have about the Catholic faith.
"The bulletin is designed skillfully in a dynamic way by the Parish Secretary, Maureen Orkwis. Her educational background in Pastoral Theology is an asset to the parish," said Father Emmanuel. "She designs not just for beauty but with the overarching communications motive of effectively lighting up the liturgical, pastoral or catechetical theme of the week."
While bulletins are a traditional means of communication, videos and websites have become effective ways to spread the Good News. It is something which Father John Giel, pastor at St. Paul Catholic Church, recognized 16 years ago when he founded the Catholic Community Television Network, which was recognized in the Internet and Web Communication and Video categories for Light of Faith this year. St. Paul Catholic School also received Light of Faith awards for its website, Adopt-a-Student campaign, and two Ace Reporter students.
"Our parish has been quite involved in evangelization for a number of years," said Father Giel. "We were answering the call of Pope John Paul II to evangelize and we had the people who had the skills to do it." From a half hour weekly program 16 years ago, CCTN's broadcasting has expanded to a 2 ½ hour block of programming which airs on Good Life TV (broadcast channel 45) on Sundays from 2:00 – 4:30 p.m.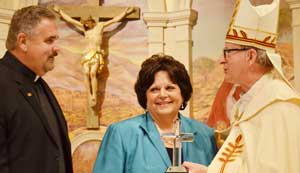 "We wanted to show people what our faith is all about," said Father Giel (pictured right). "Other Christian denominations are getting a feel for what we believe. This is not only evangelization for our people but evangelization for Christian unity."
"Using multiple methods of communications increases your potential outreach and will help ensure that you reach various generations of people," said Linda Clark, St. Paul's Parish Business Administrator. "Each generation has their preferred methods of receiving and giving communication."
"I am most impressed by the creativity of parish clergy, staff and volunteers working together to celebrate their faith through Christ. Their tireless efforts to spread the Good News are contagious," said Carol Brinati, Chancellor for Administration. "I think these parishes show that evangelization—the mission of the Church—is life-giving and is not a program, but a life of faith. This is an important lesson which we can individually and collectively embrace."