(Pictured: Transitional Deacon Chris Dorsey on left, Father Jorge Torres-Director of Vocations center, and Transitional Deacon Josh Swallows on right).
Transitional Deacon Josh Swallows first heard God's call to the priesthood while studying at Florida State University.
Participating in campus ministry, Deacon Swallows said the priests and brothers were always encouraging the young people to consider a vocation to religious life. Still, the thought of not having a wife and children scared him.
After college, Deacon Swallows began working in campus ministry at the University of Central Florida, where he learned he "loved ministry." It surprised him "how deeply" he cared for the students he served.
"Despite my efforts to ignore it, the thought of priesthood never fully went away," Deacon Swallows wrote in an email exchange with the Florida Catholic. "Could this be a calling?"
He entered the seminary to seek that answer. It didn't take long before he realized he was in the right place.
"When people speak of having peace after finding a vocation, oftentimes, this does not involve a feeling, rather it is a confidence that you are where God wants you to be," he said.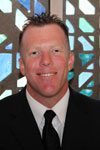 Deacon Swallows took another step toward realizing his dream of becoming a priest when he was ordained to the transitional diaconate. He was among 13 seminarians from St. Vincent de Paul Regional Seminary in Boynton Beach — including fellow Orlando diocesan seminarian Chris Dorsey — who were ordained April 27 by Bishop Gregory Parkes of Pensacola-Tallahassee at St. Joan of Arc Parish in Boca Raton. The men vowed obedience, celibacy and a life of prayer, during the ordination.
"This is the first major step in their journey to the priesthood," Bishop John Noonan said. "It is their first opportunity to minister as deacons. They can preach. They can baptize. They can assist at weddings and funerals.
"It is great opportunity for them to see where the diaconate is leading them to — a greater awareness of what it is to administer the sacraments to the people," he continued. "I encourage them to enjoy this time because it is only the beginning."
Deacon Swallows described the entire ordination Mass as filled with energy and emotion. Two moments that stood out for him were the Litany of Saints and the sign of peace.
"It is difficult to describe what I was feeling as I lay prostrate during the Litany of Saints, but it was essentially awe and humility as I understood the history behind that in which I was partaking," he wrote. "I was participating in a tradition that goes back to the apostles, and the litany being sung was invoking all of these holy men and women to now pray for me. As I lay there I prayed a prayer of thanksgiving for all the people who had been such an important part of my journey."
He added the sign of peace served as a testament of their joy and love for one another.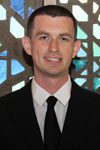 Deacon Dorsey grew up attending Holy Name of Jesus Catholic Church in Indialantic. He also felt God's calling shortly after entering college. While he had spent his college career trying to decide what to do with his life, there were no immediate plans for the priesthood. Instead, he studied biology and joined a fraternity.
Yet two years into college it "became obvious that the call was not going to leave me alone."
"I decided to seriously bring it to prayer and eventually talk about it with others," he wrote in an email exchange. "This eventually led me to the conclusion that God was calling me to be a priest and I needed to start following that plan, not the one I had made."
During his transitional diaconate ordination he was overcome with emotion — elation, humility and love.
"As I made the promises I could really feel them reverberate within me, knowing that these were promises that I would be living out daily not just for myself and God, but for the people of the Church," Deacon Dorsey wrote in an email exchange.
He said it was overwhelming lying prostrate next to his classmates.
"We literally laid our lives down for Christ," he added. "I was glad and somewhat relieved to find that in the crazy mix of emotion and grace that were present, doubt wasn't there."
Co-sponsored by the Archdiocese for the Military Services, Deacon Dorsey is also preparing to become a soldier and serve the U.S. armed forces as a military chaplain.
Father Jorge Torres, diocesan director of the Office of Vocations, said that during the summer of the men's transitional diaconate year, they will be assigned to a parish where priests will mentor them not only in handling the responsibilities of priesthood, but the emotions as well. They will return to the seminary in August, where they will continue their studies and make final preparations for priestly ordination.
"It is an incredible year and before they know it, it will be spring and they will be preparing for their priesthood ordination," Father Torres said. "My advice to them is to just enjoy the moment and to take it one step at a time. The Lord has plenty of graces for our lives and he gives it to us one day at a time."