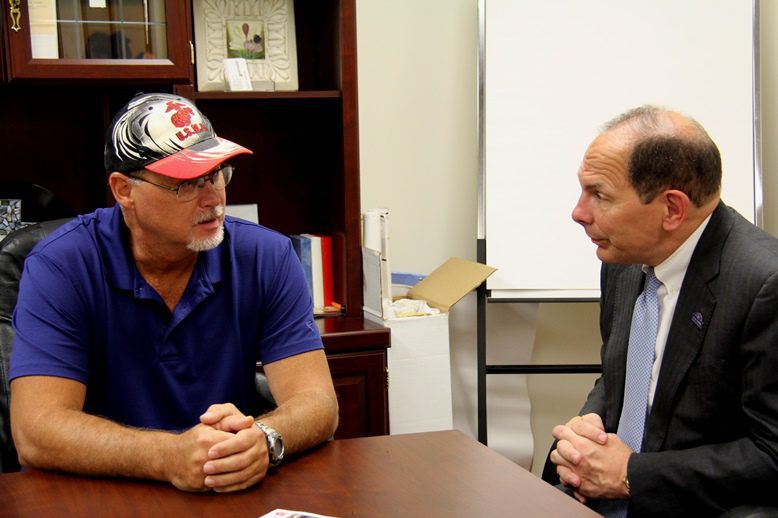 U.S. Air Force veteran Roy Parrish lived in the woods and then in his car for over a year. After ending up in acute care at Orlando VA Medical Center in Lake Nona with an infection he was sent to Pathways to Care for a safe place to heal. "Pathways has been fantastic," he said. "It's helped me to get myself back off the stress of being out there and the uncertainty of not knowing where I'm going."
Pathways to Care is a program of Catholic Charities of Central Florida dedicated to providing healthcare, housing and hope to Central Florida's vulnerable homeless population of men, women and veterans in need of a safe place to heal from serious illness or injury. Secretary of Veterans Affairs Robert McDonald recently visited Pathways to Care as part of his efforts to continue improving the care of homeless veterans. He also wanted to observe, first hand, the most unique program offered to homeless veterans in the country.
The respite facility is entering its third year of a contract between Catholic Charities and the Orlando VA Medical Center. Pathways has already been approached about renewing the contract once the term ends.
Dawn Zinger, program manager, explained, "The Veterans Administration has contracts for what they call 'emergency beds' throughout the country. So, if a homeless veteran is identified, they can place them and get them off the street.
"What is unique about our relationship is that we are a medically enhanced emergency program. So the veterans that come to us have acute medical needs. They may have been homeless and were in the hospital, where the hospital or Veteran Affairs has identified them as a homeless veteran. They transfer them to Pathways to Care for their recuperation rather than send them back out to the street."
Pathways to Care also prepares the men and women they serve for a more stable life after their recovery through the Step 2 program. The day before McDonald's tour, the Orlando VA joined the program. This will allow veterans who are receiving services from Pathways, like Parrish, to transition into permanent housing.
"It bridges people back into the community," said Zinger. "We created Step 2 because of a need we saw here. Through it, we are helping veterans get their disability and become more responsible for their personal care and managing their medication. They do all their own housekeeping and have budgeting classes and things that would help make them more successful when they do get an income and when they get out, hopefully, into an apartment."
Pathways averages about 10 veteran patients per month. Over the past two years they have helped an estimated 400 veterans. McDonald congratulated the Pathways to Care Advisory Board members for qualifying to end chronic homelessness in Central Florida. He promised to continue working with the board.
Gary Tester, executive director of Catholic Charities said, "We were humbled that secretary McDonald visited our program to better understand this unique service model and to see for himself the results of the hard work that our board, staff and volunteers put forth to help those without homes stabilize their health situation and move toward sustainable housing options.
"We are especially touched by the reality that over 25% of those we are privileged to serve are reunited with family members," Tester said.