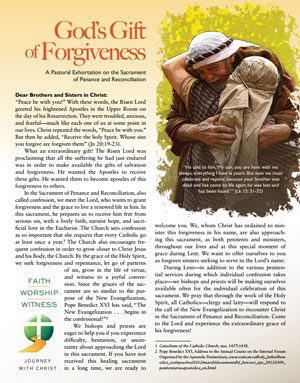 Lenten Theme: Give Up, Take Up, Lift Up! The USCCB has created a wealth of daily Lenten resources for personal inspiration and to assist those active in ministry.
Printable 2014 LENTEN Calendar
Video reflections from USCCB staff.
Downloadable PDFs:
God's Gift of Forgiveness: A Pastoral Exhortation on the Sacrament of Penance and Reconciliation English | Spanish
Audio Retreats for Lent & Easter
First Sunday of Lent (March 9, 2014)
English & Spanish: Bishop Joe Vasquez of Austin, TX
Second Sunday of Lent (March 16, 2014)
English & Spanish: Archbishop Timothy P. Broglio of the Archdiocese for the Military Services
Pope Francis, Message for Lent 2014
The retreats, made possible by donations to the Catholic Communication Campaign, are produced by Franciscan Media.