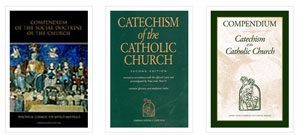 REMINDER: USCCB Catechetical Sale, 20% OFF Ends Monday Sept. 30!
* Complete Order form
* GO to Shopping Cart
* USE Promo code – Claim 20% discount with code:FAITH
Doctrine ~ Faith ~ Action
"An invaluable tool for adult catechesis especially the RCIA."
-Bishop Michael Saltarelli, Diocese of Wilmington (Retired)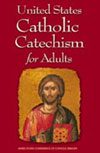 Each chapter in the United States Catholic Catechism for Adults includes stories, doctrine, reflections, quotations, discussion questions, and prayers to lead the reader to a deepening faith.
Use Promo code FAITH to order for $19.96.
Pastors, deacons, DREs, ministers, catechists, moms, dads, youth… Do you meet in groups? Prepare a Class? Want to know more about the Catholic faith? Use Promo code FAITH to receive the 20% discount on catechism titles thru 9/30/13. All titles also available in Spanish on SALE.
Compendium of the Social Doctrine of the Church: Relating to social work. SALE $23.96. To inspire and guide. Get a copy.
Catechism of the Catholic Church: The full, complete exposition of Catholic doctrine. SALE $19.96. Know Your Faith. Click here to order.
Compendium of the Catechism of the Catholic Church: Clear synopsis of essentials. SALE $14.96. Easy to use Q&A format. See details.