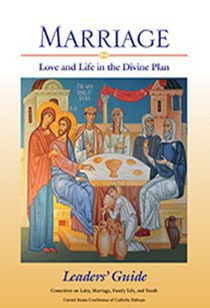 Married couples today are faced with many complex challenges. The Marriage: Love and Life in the Divine Plan Leader's Guide will guide you through the bishop's statement on marriage and assist your ministry in preparing and leading educational sessions. Statement only and Statement only in Spanish. Quantity discounts available on product page.
An ideal explanation on the Church's teaching on marriage, the abridged version of Marriage: Love and Life in the Divine Plan highlights the key thoughts, reasoning, and takeaways about the Church's understanding of the Sacrament of Matrimony.
Made for Each Other – Help catechize and educate Catholics on the meaning of marriage as the union of one man and one woman. This package contains a DVD, Viewer's Guide, and Resource Booklet. Pre-Order El Matrimonio: NEW Spanish Film and Study Guide.