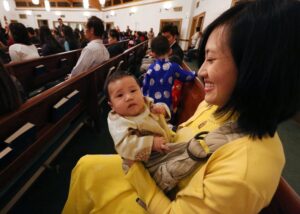 The beating of the traditional drum and gong sounded the start of the Vietnamese New Year Mass, the Year of the Rooster, on Jan. 28 at St Philip Phan Van Minh Parish in Orlando, part of a three day celebration marking the lunar new year that the Vietnamese community calls Tet. It was a Mass filled with rich symbolism and ancient traditions.
The altar was surrounded by blossoming trees and draped in red, a traditional color of happiness, luck, love, and celebration, as the smell of incense filled the sanctuary. The choir, dressed in red and white, led the parish in Vietnamese song and beautiful chant.  Along with the gifts of bread and wine, altar servers presented a platter of five different fruits, to honor their ancestors, in front of the altar along with two baskets filled with red envelopes.
In his homily, Bishop John Noonan, presiding over the standing-room-only crowd said, "As we begin the New Year, we ask again where is God in our lives—wherever love is.  If we don't have love in our hearts, ask God to take away a stony heart and give a heart to love.  Let us be mindful of the greatest gift we receive, which is love. When you have love, you have God with and in you."
Traditionally, in preparation for the New Year, Vietnamese homes are cleaned and cleared of clutter to start fresh and be ready for visits from family and friends.  Traditional foods are prepared and new clothes are bought.  Brigitta Tuong Van Nguyen, a parishioner at Annunciation in Altamonte Springs participated in the New Year's Mass.
"This is a time when family members unite together to celebrate.  We put out fruit, candy, and flowers to invite the ancestors to join us in the good spirit, good wishes for the New Year."
Van Nguyen, who described herself as one of the "boat people", escaped Vietnam in the late 70's in a small boat with her two young children and husband. For three days and nights her family was buffeted by the open ocean until they were picked up by another boat and brought to Indonesia where they were in a refugee camp for months before coming to the U.S. in 1982.  Since then, she has kept her New Year traditions which have now been passed on to her grandchildren.
"On New Year, the children put on their new clothes and they thank their parents for what they are given, and wish them good wishes, luck and health.  After that, they get the red envelope with new money," explained Van Nguyen.
Quyen Van Nguyen and his fifteen year old grandson An Nguyen participated in the Mass as well.
"At midnight, we count down and pray. We say thanks for the old year and for the New Year. Then, celebrate and eat," says An Nguyen. Arriving only three months ago from Vietnam, An says of his hopes for the new year, "I want for my family health and happiness, to be stronger and the peace of God."
After Communion, Father Chau Nguyen pastor of St. Philip thanked Bishop Noonan saying, "Every lunar New Year you spend with us. We wish for you to be filled with the blessings of God and with good health as you shepherd this diocese."
Father Chau along with Bishop Noonan handed out the small red envelopes, eagerly anticipated by the children, which contained a crisp, new dollar bill, a tradition symbolizing luck and prosperity in the New Year, while the adults received a scripture verse to reflect upon during the year.
Closing the celebration Bishop Noonan addressed the community by saying, "Never forget who you are and your traditions.  Hold onto your traditions, because if you lose them, you lose the heart of who you are."