Vietnamese families at St. Philip Phan Van Minh Parish recently marked the first day of the Lunar New Year, the Year of the Dog, part of a three day celebration called Tet. The date comes late this year as last year was a leap year. Pastor Chau Nguyen explained that for the Vietnamese, a leap year adds one month to the calendar, not one day as in the U.S.
"For us, the New Year always reminds us of the newness of life because it is always the first day of Spring," said Father Nguyen. "It is like Thanksgiving, New Year's and Christmas all together. "It is a family gathering when everyone, wherever they are comes home. We gather to thank God for his blessings of the previous year and ask him for his protection and grace for the New Year."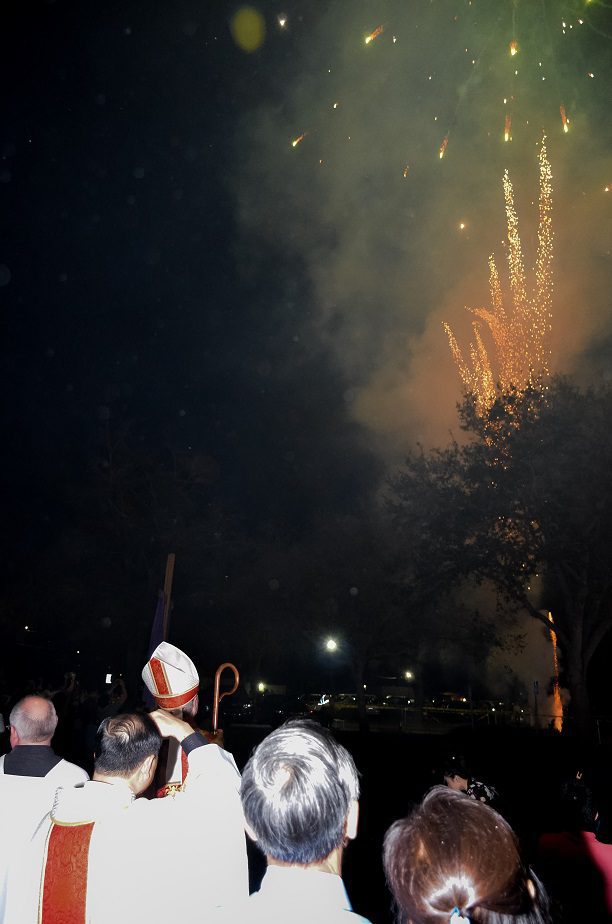 Bishop Noonan celebrated the Mass with traditional yellow "hoa mai" flowers signifying the Tet, New Year beside the altar. Fireworks set off the celebration as the faithful exited the sanctuary.
"As Catholics, we always have Mass and then we have a ceremony at home to venerate the ancestors with incense before offering parents and grandparents best wishes," said Father Nguyen. Both children and adults receive gifts in red envelopes. For children, there is a new dollar bill inside signifying the newness of the year. Adults open their letter to find a quote from the Bible. Then, they try to live by the Word of God.
By Glenda Meekins of the Florida Catholic – February 19, 2018