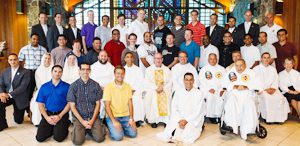 Calling all students! Tell us what you think about a vocation to the priesthood or religious life of a sister. For example: What are the joys and challenges in the life of a priest or sister? What qualities are necessary for the religious life? How do new priests and sisters help the Church grow? Click here for a flyer about this contest.
First prize is $100, 2nd prize is $50 and 3rd prize is $25.
Rules:
Contest is sponsored by Diocese of Orlando Office of Vocations and St. Margaret Mary Catholic Church. Entries must be 200 words or less and typed or emailed and must include name, address, email address, school grade and telephone number of entrant. Three grade groups for entries include: 9-12, 7-8 and 5-6. Entries can be emailed to ann@stmargaretmary.org . Hard copies of the entry can be mailed or dropped off to St. Margaret Mary Catholic Church, 526 North Park Avenue, Winter Park, FL 32789.
All entries must be received by December 31, 2012. Awards will be based on originality and clarity. Any questions, call 407-647-5171.