Leonard "Len" Deutsch (pictured) was leaving daily Mass at St. Joseph's Catholic Church in Winter Haven when he was asked to help put together shelves at the Catholic Charities Food Pantry. He never thought the project would turn into six years of daily volunteer work.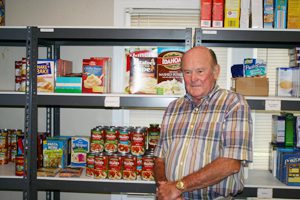 "I just filled in at first" explains Deutsch. "One thing led to another until now it's a regular deal."
The Winter Haven Food Pantry is open five days a week and serves almost twenty families each day. There is a lot of work to be done and Deutsch has been involved with every aspect of its operation: stocking shelves, filling bags, helping elderly and disabled clients to their cars, and other odd jobs that arise.
"Every item in our building has been worked on by Len" says Anne Winkler, Family Empowerment Case Manager, "from door knobs to gluing things back together."
Deutsch appreciates the opportunity to do something meaningful with his time. "I wasn't working so I decided I might as well be doing something, maybe help some people out. I do that rather than just sitting around."
He has seen a lot of struggling families come through the doors of Catholic Charities over the years and he admires the way they are cared for by the food pantry staff. "They are my inspiration. They've taught me about helping people." says Deutsch. "The group here is fantastic. I haven't run into any of the clients that weren't very gracious for what Catholic Charities was trying to do for them."
In the last year alone Deutsch has volunteered 825 hours and drove over 4,500 miles to pick up donations for the pantry. His faithful service earned him the Volunteer of the Year Award from Catholic Charities. Executive Director, Joe Buranosky presented the award at the 50th Anniversary Mass of Thanksgiving on October 8 at St. James Cathedral.
"The core of Jesus' message is love" says Buranosky. "Charity is at the heart of what we as Catholics profess. Our volunteers are living the Gospel message by their action."
Last year there were 560 volunteers donating over 28,000 hours of service to Catholic Charities. They are people who care about the agency's mission and are passionate about helping their brothers and sisters in Christ. Volunteers from all areas of Central Florida; our Catholic parishes and schools, local communities, and even former clients, all join together to make the work of Catholic Charities possible.
Deutsch humbly downplays his contribution to Catholic Charities saying, "I just try to do whatever is needed." But Winkler expresses her appreciation for his continued presence, "If there's a problem of any kind, Len is the guy to call. He is patient, kind, willing, able, reliable, loyal, and always, always ready to lend a hand. He's in it 100%. We have been blessed."