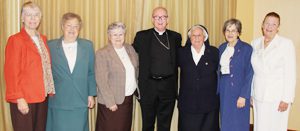 The Diocese of Orlando honors and congratulates these five religious sisters (pictured with Bishop John Noonan and Sister Immaculata Knox) who are celebrating their golden and diamond jubilees of love and dedication serving others for the greater Glory of God.
SR. MAUREEN CANNON, O.P., 60 years of service
Dominican Sister Maureen Cannon was searching for her place in the world when she heard God's call to religious life. "Like many young people, I felt ordinary and wondered what my path in life was to be," she said. "At the same time, I had a strong desire for holiness and felt that a religious life would give meaning to my life."
In October 1952, the young woman from Philadelphia entered the Dominican Sisters of St. Catherine de' Ricci community and began a blessed life of service and ministry, serving in several of the Congregation's retreat homes, located throughout the United States.
One of her earlier assignments was at Dominican Sisters' retreat house in Albuquerque, NM, where she was a staff member in the Religious Education Office. In the evenings, she and another sister would travel to parishes throughout the Archdiocese of Santa Fe, teaching classes in "Methods and Doctrine" to religious education teachers.
At the same time, Sister Cannon was pursuing her bachelor's degree in sociology from the University of Albuquerque, and after 15 years of part-time studies, she earned her degree with a minor in philosophy in 1967. Four year later, she earned her master's degree in psychology from the Catholic University of America in Washington, D.C., and in 1978 would add to her credentials, earning a master's in theology from the University of Dayton.
Sister Cannon's life has been rooted in helping others. While serving as director of the Loretto, the Dominican retreat home in Dayton, Ohio, she initiated a ministry to care for young women from correctional institutions and unwed mothers.
Sister Cannon then embraced nearly four decades of service in campus ministry and religious education. She guided pro-life activities, created programs with intellectual, spiritual, social and justice dimensions, and developed courses in adult initiation and mentored in Liturgical ministries. In 2002, Sister Cannon was elected to the leadership team of Dominican Sisters of St. Catherine de' Ricci's religious community, a position she still holds today, even in her retirement in Melbourne.
"I have lived a blessed life," Sister Cannon said. "The past 60 years mean everything to me. It is my entire life. It is who I am. I cannot imagine not being a sister."
SR. ROSEMARY LORENZEN, C.S.J., 60 years of service
More than 50 years ago, inspired by the love and dedication of the Sisters of St. Joseph who taught at her school, Sister Rosemary Lorenzen decided to enter the community in Brentwood, NY at the age of 17. Growing up in a tight-knit community in New York, Sister Lorenzen was close to her teachers, especially her eighth grade teacher, Sister Teresa.
"Sister Teresa, as well as the other sisters, were such an inspiration to me. I saw firsthand the love they had, not only for God and their students, but for each other," she said. "They truly lived in community, serving our Lord. It was a marvelous witness. I remember, from an early age, thinking that I wanted to be like them."
After earning her bachelor's degree in math from St. Joseph College Seminary and College in Yonkers, N.Y., and ultimately her master's degree, also in math, from Manhattan College in New York, Sister Lorenzen embarked on a lifetime of teaching. During the early part of her career, she taught math to middle school students, as well as classes in religious education and sacramental preparation in Catholic schools throughout New York.
In 1987, Sister Lorenzen moved to Orlando to care for her widowed, invalid mother. It was then that she joined the staff at Good Shepherd School, first as a part-time teacher and eventually as full-time middle school math teacher, a position she held until her retirement in 2009.
Sister Lorenzen remains active in her retirement. In addition to caring for a neighboring sister and serving as a minister to the sick, Sister Lorenzen continues to share her knowledge with the children at Good Shepherd School as a part-time tutor.
"I truly have been blessed, not only by the women of St. Joseph who have taught me how to pray, love God and serve others throughout the years," she said, "but also by the people whom I have served. So many have touched my life just in knowing them. They have made me a better person and have brought me closer to God. My hope is that I have impacted their lives as well. It has been a blessed 50 years."
SR. ELIZABETH MURPHY, O. S. F., 50 years of service
Growing up in a devout Catholic family in Mallow, Ireland, Sister of St. Francis Elizabeth Murphy heard God's call at a very young age. The oldest of six, Sister Murphy remembers being inspired by the sisters serving in her parish.
"They lived such a beautiful life, filled with excitement and spiritual growth," Sister Murphy said. "I saw how close they were to God and couldn't conceive doing anything else in my life."
In 1960, Sister Murphy left Ireland for Philadelphia and joined the order of the Sisters of St. Francis with 10 other Irish women. She took her final vows in 1962 and began teaching elementary school children in Willingboro, N.J., where she learned patience and authority.
Four years later, she helped open a school in Walpole, Mass., with retired Sister of St. Francis Maria Gross — currently a volunteer at St. John Vianney whom Sister Murphy credits as helping her become the person she is. Sister Murphy then taught first and second grades in Baltimore for a few years, before joining St. John Vianney in 1976, where she taught third, seventh and eighth grades.
She left St. John Vianney in 1984 to become a principal in Spartanburg, S.C., before taking a break from the classroom to serve refugees in Zambia.
Sister Murphy returned to the United States and served as a temporary principal at a Benedictine school in Florence, Ala., that was transitioning its leadership from reli­gious sisters to laypeople. Then, in 1993, she received a call to return to St. John Vianney to assume the role as principal, a position she relishes.
"The people I have met throughout the years have truly touched my life. They have made me who I am today," Sister Murphy said. "My hope is that I have touched their lives as well. Every morning, as we gather in prayer, I encourage my students to be witnesses to God's love. I tell them, 'May the Christ in you reach out and touch the Christ in all you meet."
This has been a year of celebrations for Sister Murphy. Earlier this year, she received the Bishop Dorsey Award for Distinguished Service to Catholic Education, an award presented to someone who helps Catholic education successful and is a steward of the ministry.
"It has been a wonderful 50 years," Sister Murphy said. "My life has been enriched and filled to overflowing. I give thanks to God for calling me to be his servant. My heart sings for joy."
SR. MARY KATHERINE PALISIN, S.N.D., 50 years of service
Dominican Sister of Notre Dame Mary Katherine Palisin's childhood was steeped in culture and faith. Growing up in Lakewood, Ohio, where parishes were defined by ethnicity, her education, church and family life were grounded in the Slovakian neighborhood where she, her parents and six siblings lived. Much of her free time was spent at her parish school, passing time with the sisters.
"It was a happy, nurturing community. When one of the sisters asked me if I ever considered life as a religious, I said yes," Sister Palisin said. "Since I was a child, I wanted to help people and be part of the Church. At one point I had thought of becoming a nurse or a stewardess, but as I discerned God's call for me and saw that sisters were educators and leaders within their parishes, and missionaries, I knew I was called to religious life."
As she celebrates her golden jubilee, Sister Palisin continues to share her love of God as a pastoral minister serving the sick, homebound and bereaved at St. James Cathedral in Orlando.
Much of Sister Palisin's ministry has been spent in the classroom. After earning her bachelor's degree in education from the now closed St. John College in Cleveland, she began teaching in elementary schools throughout the Diocese of Cleveland and in Washington, D.C. To better serve God's faithful, Sister Palisin continued to advance her knowledge and earned her master's degree in religious education from the Notre Dame Institute in Virginia, which was affiliated with the Pontifical University of St. Thomas Aquinas in Rome.
In 1987, Sister Palisin moved to Florida to become Director of Religious Education at St. Joseph Catholic Church in Winter Haven. She held that position for 12 years when she began to hear God's call once again and ultimately became the pastoral minister at St. James Cathedral in Orlando.
SISTER ELIZABETH CREAN, S.N.J.M, 50 years of service
Holy Names of Jesus and Mary Sister Elizabeth Crean grew up in the suburbs of Washington, D.C. in Silver Springs, MD. The eldest child of Jerome and Francis Crean, her upbringing was steeped in the Catholic faith. Among her fondest childhood memories were her teachers.
"I thought the sisters were wonderful," Sister Crean said. "They had a lovely combination of spirituality and friendliness. They truly cared about us. That planted the seed."
Like many young women at the time, Sister Crean entered the convent from high school and she made her first vows in August 1962. Little did she know at the time what would happen a few months later with Vatican II.
"It has been a great time to be a religious sister because we have come through so many exciting things," Sister Crean said. "We entered in full habit, cloistered and such, and here I sit today, still in full commitment and ideals."
After earning her bachelor's degree in history from Barry University in Miami Shores, Sister Crean began her teaching career, teaching in elementary schools throughout Virginia, New York and Florida, in Catholic high schools throughout Florida, including Bishop Moore in Orlando, as well as Tampa Catholic and Sacred Heart Academy, both located in Tampa, and at Seminole State College. Sister Crean also served as campus president at the Academy of Holy Names in Tampa.
While she was teaching, Sister Crean was also pursuing an education of her own. She holds a master's degree in history from the University of Southern Florida, a paralegal degree from Seminole State and a juris doctorate from the California Northwestern school of Law. Sister Crean is quick to note that she is not a lawyer because she is not licensed to practice law, but rather a graduate of law school.
Sister Crean was a writer and photographer for the Florida Catholic and has volunteered at Central Florida Legal Services, Seminole County Legal Services and Immigration Legal Services at Catholic Charities. Today, she volunteers with the Apopka Family Learning Center and Justice for Our Neighbors.
"The relationships I have had and the opportunities to work with and minister with so many people have been such a joy," Sister Crean said. "They have shared their lives with me and I take that to heart, treasure it and honor it. It has been great. I have been very blessed."