Bishop John Noonan will celebrate a Mass for religious sisters in the Diocese of Orlando on October 29, at 11:00 a.m. at Orlando Airport Marriott Hotel. This will be a wonderful opportunity for the religious sisters to gather for fellowship and unity and to honor those who are celebrating golden jubilees. (Pictured: Sister Barbara Boyle, Sister Nora McCann, and Sister Joyce Rohlik).
The Diocese of Orlando thanks all the religious sisters for their dedication to serving God's people. Congratulations to the following 50 year golden jubilarians:
Sister Barbara Boyle — "50 years have gone by quickly"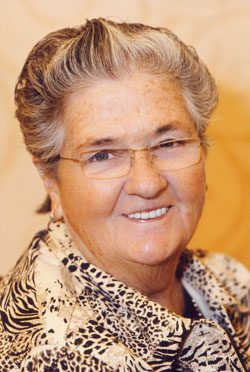 Sister Barbara Boyle said she wasn't sure she'd make it in religious life.
"Many of my peers have said that they can't believe that 50 years have gone by this quickly," said Sister Boyle, a member of the Sisters of Notre Dame de Namur who entered religious life on Aug. 27, 1961.
"Honestly, I didn't think I would last 50 days, let alone 50 years," she concluded.
But she has, and in that time has dedicated her life to assisting those in need. Sister Boyle was born in Philadelphia and after taking her final vows, worked with St. Mary Parish in Norfolk, Va., for 24 years. During that time, she was a teacher and administrator in the African-American community, and she learned more about spirituality, worship and community than she ever expected.
"Still, I have close friends there and, of all things, too many to communicate with on my Facebook account," Sister Boyle said.
For the past five years, Sister Boyle has worked in the Hispanic community in Apopka, where she has taught reading to young bilingual students and adults.
"I am having a wonderful time with them," Sister Boyle said. "The other Sisters in Apopka have welcomed me and taught me a lot about the community here. Time keeps flying when I am having fun."
Sister Boyle said one of the happiest gifts was working in Nigeria, with Sisters from both Nigeria and the U.S., preparing young Nigerian Sisters to be successful in college as well as become proficient teachers, social workers and community leaders in the poorest country in Africa.
"I have learned so well from the people I have met and shared friendship with over these past 50 years," Sister Boyle said. "I am grateful to my family for their support, love and encouragement, as well as the many Sisters I have lived with over the years. May the good Lord continue to bless each and every one of them."
---
Sister Nora McCann – "I wouldn't want to live life any other way"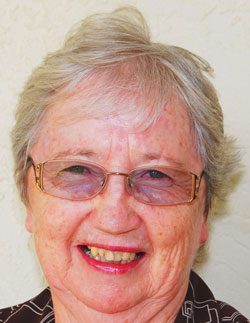 A native of County Cavan, Ireland, Sister Nora McCann is a member of the Religious Order of the Sisters of Mercy (RSM), an international congregation responding to the needs of contemporary society, founded by fellow countrywoman, Catherine McAuley, in Dublin. The Mercy Sisters have had ties to the Diocese of Orlando well before the Diocese was formed in 1968; The Sisters established Our Lady of Lourdes School in Daytona Beach in the summer of 1954.
Sister McCann has ministered within the Diocese of Orlando for more than 30 years. After 18 years of teaching in elementary and middle school in Navan, Ireland, she arrived in the U.S. in 1979, and served in multiple capacities, first at Our Lady of Lourdes, and later, at the Church of the Epiphany Parish in Port Orange, where she currently serves as the Pastoral Assistant. Between Our Lady of Lourdes and the Church of the Epiphany, Sister McCann has also served as a teacher, principal, catechist, Director of Religious Education.
Sister McCann said she joined the Religious Order of the Sisters of Mercy because "their lifestyle was appealing."
"The Sisters who taught us were young," Sister McCann said. "Their spirit and lifestyle was appealing. Four of my contemporaries entered at the same time. To us it was a noble calling; we were idealistic. It was normal too those years for young women to enter the convent."
On the occasion of her 50th anniversary of religious life, Sister McCann prays that her affirmation to God's calling continues to be expressed anew every day in the spirit of the Gospel, through the Spiritual and Corporal Works of Mercy that unite her to God's people.
"I have no regrets," Sister McCann said. "I wouldn't want to live life any other way."
---
Sister Joyce Rohlik – "Whatever mission I was on, that was my favorite at that time"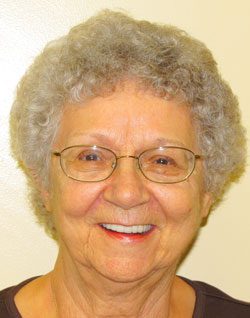 When the calling first came, Sister Joyce Rohlik wasn't ready to accept it.
"Not me, it can't be," she said.
That calling began in third grade, and stayed with her until she graduated college, when she finally answered God. And now Sister Rohlik, a native of DeKalb, Ill., continues to serve as part of the Sisters of Charity of the Blessed Virgin Mary, a community based in Dubuque, Iowa that she joined in 1961.
"They had taught me," Sister Joyce said. "The sisters that I knew were fun, smart and spiritual. I wanted to be like them. Whatever mission I was on, that was my favorite at that time and I thought it was the best place for me. I feel blessed to have shared these past 50 years with so many special sisters and lay ministers who have touched my life."
Sister Joyce has served as the Director of Pastoral Care in four churches: St. Mary Magdalen Parish in Altamonte Springs; Sts. Peter and Paul in Winter Park; St. Brendan in Ormond Beach and St. Ann in DeBary. Currently, she is a Regional Annulment Advocate in Polk County, and works at the Church of the Resurrection in Lakeland.