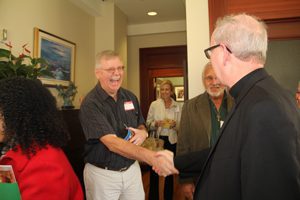 Bishop John Noonan (pictured right) invited parishes and schools to tour the chancery to learn more about Diocesan ministries and staff in a spirit of hospitality and service.
"We wish for you to know us and the services we provide for the people of God," said Bishop Noonan in his invitation.
Bill Spiegelhalter, web developer of Immaculate Conception parish in Melbourne Beach and his wife Sharon were two of the 100 people who toured the offices and learned about the many ministries that are carried out by Chancery staff.
"It was amazing. There are so many resources to help us and so many knowledgeable people. We had never been exposed to that before," said Spiegelhalter.
The 28 ministries and offices that were featured in the Chancery open house were: the Bishop's Office, Advocacy and Justice, Archives, Buena Nueva FM, Catholic Foundation of Central Florida, Catholic Volunteers in Florida, Communications, Design and Construction, El Clarin, Faith Formation, Family Life, Finance, Florida Catholic, Haitian Ministry, Hispanic Ministry, Human Resources, Liturgy, Media Center, Mission Office, Mission Integration and Engagement, Music, Pastoral Care, Permanent Diaconate, Printing and Distribution, Schools, Tribunal, Vocations, and Reception.
To see a Diocese of Orlando Chancery directory that includes names, titles, photos and contact information for staff, and to read an overview of each office and ministry in the Diocese of Orlando chancery, click here to choose from our many listings.