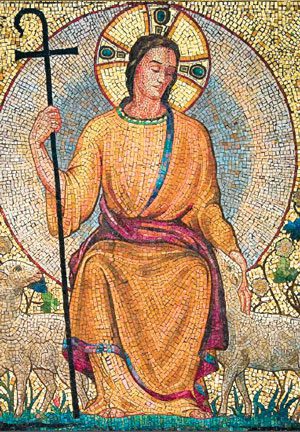 All Catholics have the responsibility to pray for vocations and to invite people to consider a call to ordained ministry and consecrated life. That is a reminder set during the celebration of National Vocation Awareness Week, Jan. 13-19.
"National Vocation Awareness Week gives dioceses and parishes across the country a chance to promote vocations through prayer and education," said Archbishop Robert Carlson, chairman of the bishops' Committee on Clergy, Consecrated Life and Vocations. "This is especially important in this Year of Faith and as the Church continues to focus on the New Evangelization. Vocations to the priesthood, diaconate and consecrated life are essential in the Church's mission of spreading the joy and love of Jesus Christ."
Father Jorge Torres, director of the Diocese of Orlando Office of Vocations, said extending a personal invitation to the priesthood or religious life could be the most powerful gesture made to someone seriously considering such a vocation. While there is a particular grace when this invitation comes from a priest or sister, encouraging words from lay people to someone with the right qualities can be just as effective.
"It can be a powerful seed that affects a person's life," Father Torres said.
In fact, according to a study, "Consideration of Priesthood and Religious Life Among Never-Married U.S. Catholics," conducted by the Georgetown University-based Center for Applied Research in the Apostolate, when someone is encouraged by three or more people to consider a religious vocation in the Church, they are more than five times more likely to seriously consider it.
Prayer for vocations, whether done through a parish's Vocations or Elijah Cup program or in quiet time spent with God, is essential, Father Torres said.
"Prayer is the time when God speaks to our souls. If someone discerning religious life does not maintain a deep prayer life, their calling is growing on rocky soil," he continued. "As Catholics, we can till that soil through prayer and help grow the number of men and women in religious life."
The Diocese of Orlando offers discernment groups and during meetings individuals participate in the celebration of Mass, pray before the Blessed Sacrament, share discussions and a meal. Each group discusses the topics that are top of mind depending on their ages and life experiences. On one hand, teens have questions such as should they go to prom or how to tell their parents or girlfriends about their discernment, whereas adults contemplate leaving lucrative careers and selling their homes in search of a vocation that will bring true meaning to their lives.
The teen groups first started meeting in March 2012. In August, the first diocesan Quo Vadis discernment retreat was held and was attended by 14 high schools boys, a full capacity event.
Father Torres formed the teen groups in response to the need to help those in high school to discern a call in their life. Because of the good response, the diocese will continue to expand the program.
"No matter where they are in life's journey, many of these teens and men think they are the only ones contemplating a vocation in priesthood," Father Torres said. "The discernment groups are liberating in letting them know that they are not alone and offer healing for those who feel so alone. The benefits of the group support are priceless."
For more information on all discernment groups, contact Father Jorge Torres at 407-246-4876 or jtorres@orlandodiocese.org. Currently, high school discernment groups meet in Orange and Brevard counties, with new groups being formed in Seminole and Polk counties. For information about the high school discernment groups, teens should ask their parents to contact representatives in the following counties:
Orange County: Contact Tina Shannon, youth/young adult director at Holy Cross Parish in Orlando at 407-438-0990, or tshannon@hccchurch.org
Brevard County: Contact Mark Kniepmann, youth minister at Ascension Parish in Melbourne at 254-1595, ext 3075, or ascensioncatholicteens@gmail.com
Polk County: Contact Michael Florian, director of youth and young adults at St. Joseph Parish in Winter Haven, at 754-367-3586
Seminole County: Contact Darryl Dziedzic, steward for youth ministry at St. Mary Magdalen Parish in Altamonte Springs, at 407-831-1212, ext. 235, or Youth@StMaryMagdalen.org