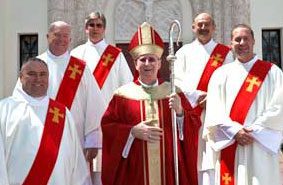 In the simplest sense, a deacon is known as a servant. Deacons are responsible for many things, and his ministry should be present at home, in the parish, and in the secular world. Deacons are called to be Sacramental signs of the servant, as Christ is the servant to all.
Deacons should always be seen in one of three ministries:
Ministry of Charity and Justice: Deacons must be involved in one or more ministries in the community as a direct response to Christ's call to feed the hungry, welcome the stranger, clothe the naked, visit the sick and visit those in prison (Mt. 25:35-36). Deacons are called to encourage all those baptized to participate in these ministries.
Ministry of the Word: Deacons must evangelize and teach others to live a life of true Christian discipleship. He proclaims the Word of God in such a way that he first witnesses its empowerment in his own life.
Ministry of Liturgy: Deacons must be a connection between sharing the Lord's Eucharistic table and serving the many hungers felt by all of God's children.
Deacons are ordained ministers and thus receive the sacrament of Holy Orders. There are also different kinds of deacons. Permanent deacons are those called to be deacons for the rest of their lives. Many permanent deacons are married. Transitional deacons are men who are ordained to the diaconate and will soon be ordained to the priesthood. Transitional deacons are single.
Deacons may administer the Sacrament of Baptism and officiate at the Sacrament of Marriage.