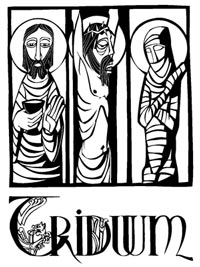 The Art and Environment Committee of the Diocese of Orlando Liturgical Commission is sponsoring a What We Need to Know about Catholic Art and Environment for Lent, Triduum and Easter WORKSHOP on Saturday, February 2, 2013, 9:00 a.m. – 12:00 noon at the Basilica of the National Shrine of Mary, Queen of the Universe. The cost is just $10.00 and covers materials and snacks.
If you like, send ahead any photos you have of your past endeavors to share. We will critique all submittals to help with our future work.
This promises to be a friendly, community building time as well as a great learning opportunity.
R.S.V.P. to Aaron Kohl, akohl@orlandodiocese.org. Make your checks payable to the Diocese of Orlando with a sub-note, "Art and Environment", and submit to Aaron Kohl, Diocese of Orlando Office of Liturgy and Office of Music, P.O. Box 1800, Orlando, FL 32802-1800. Please contact Pat Markusic, 407-322-3961, or Helen Telep-Gonzalez, 863-324-3040, with questions.