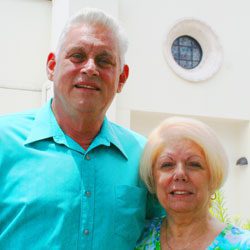 As Charlie Cimmino prepares for his ordination to the permanent diaconate, Elena Cimmino realizes her husband will soon be transformed into a new man.
However, she won't see herself so much as a deacon's wife, but as a woman who will walk next to her husband in their spiritual journey.
"I'm still Elena, I don't see myself as a deacon's wife," she said. "I will still be involved in ministry. When people come up to me and say, 'You're going to be a deacon's wife,' it catches me by surprise."
Wives play a special role in the diaconate formation, and they must be as committed as their husbands in the formation process. Before the husbands are accepted into the diaconate program, the Catholic Church requires that the wives consent, as the couples' first commitment is of their marriage and their vows. If wives are unable to attend monthly meetings with their husbands, the men will not be ordained.
"It's my calling too," Elena Cimmino said, "because we're a couple."
Officially, deacons' wives do not have a specific role. However, their unity is a Sacramental sign to the parish, like the unity of Christ with his Church. Additionally, many wives serve their parishes and communities in their own ways.
"A deacon's spirituality needs to be one of servant, and for the wife to really understand that, she'll need to support her husband by being with him in this walk," said Deacon David Gray, director of the permanent diaconate for the Diocese of Orlando.
"If they're not involved in the preparation and the formation, they won't see the changes to their husband. Being with their husband gives them a grounded sense of what diaconate is, and how they must transform to live out this call also."
Elena Cimmino's spirituality has been enhanced during the formation process, though she has had to transform herself extensively to live this calling. She said she has also sacrificed her roles in ministry and other commitments. Instead of leading her Bible study, Elena Cimmino assisted her husband with his homework and academic requirements, and read every book and piece of literature he had to read. The sacrifices and commitment also kept the couple from attending some family gatherings with their children and grandchildren.
But, their five-year journey also allowed them to develop a stronger relationship with each other and with God, she said.
"We did all five years of this together, we really did," Elena Cimmino said. "We've grown so much in these five years that I wouldn't have it any other way. We've grown by leaps and bounds, even though it was difficult at some points."
After Charlie Cimmino is ordained, Elena Cimmino said she will return to her own ministries, which include a leadership role in Charismatic Renewal as well as leading Bible study. And, as other ministries contact Charlie Cimmino for his assistance, Elena Cimmino is ready to share her husband.
"He's a gift from God to me, and gifts are meant to be shared," she said. "This is his calling; it's always been."
Overall, Charlie Cimmino said he would not have been able to complete formation without the support of his wife, mandatory or not. "I'm grateful for all of her support; she's been amazing. She has supported me in everything I have done in my life, 100 percent, and I thank her for that. She has so much wisdom that has helped us through this process of formation. She read every book that I had to read, she organized my thoughts, she helped me prepare for discussions – she did it all," Charlie Cimmino said.