With a theme of "Let Your Light Shine" the 48th Annual Orlando Diocesan Council of Catholic Women (ODCCW) convention April 23-25 focused on the light of Christ shining in the women's many projects of mercy and concluded with a spotlight on the mothers of the priests who are their spiritual advisors.
"When our beloved Pope Francis declared a Jubilee Year of Mercy, his desire was that Christians everywhere draw closer to the Father by recognizing and basking in his infinite mercy," said Cathy Petroff, outgoing Orlando Diocesan Council of Catholic Women (ODCCW) president from Church of the Resurrection in Lakeland. "We are called to rediscover the spiritual and corporal works of mercy, that they may become part of the fabric of our being, that the virtues they evoke may make us more and more Christ-like in our everyday actions."
More than 175 women gathered with the priests who serve as their spiritual advisors at the Embassy Suites in Kissimmee to recognize the major accomplishments of the past year, to learn of the current needs locally, throughout the country and world and to be inspired to let the light of Christ shine ever more brightly.
A record 326,464 hours of service were performed by the women in the 36 Council of Catholic Women affiliations in the five deaneries which comprise the ODCCW from July 1 – March 31. Bishop John Noonan presented the St. Paul Council of Catholic Women in Leesburg with the annual diocesan Light of Faith Award at the convention's closing Mass for their collaboration with Catholic Charities of Central Florida to provide Easter baskets to homeless children.
"There it is – love in action," said Bishop Noonan. "Sometimes we forget that it's the small things we do every day that make a difference. We have something to offer – a kind word, a shoulder to cry on, we listen to another, we dry the tears of another, we are present with another so they know someone is with them. We care."
"Serving our brothers and sisters in need resonates in our diocese," said Mary Matheus, ODCCW executive officer from Annunciation Parish, Altamonte Springs who was newly installed as ODCCW president for 2016-2018 and introduced the awards for projects completed in Leadership, Service and Spirituality. "We clothe the hungry, shelter the homeless and much more. The energy and selflessness shown is both humbling and remarkable."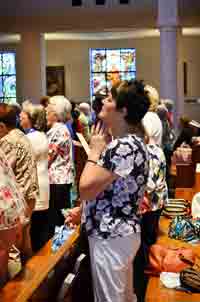 Among the awards presented were: St. Ann Council of Catholic Women in DeBary for its Celebration of Nonagenarians – women in their 90's who have faithfully served; Our Lady of Grace Council of Catholic Women in Palm Bay for its work in founding and supporting Grace House, transitional housing for recently released women who were incarcerated; and St. John Neumann Council of Catholic Women in Lakeland for their Our Lady of Guadalupe pillows created for newly baptized children to inspire their Bonding and Love of Our Blessed Mother.
The Esteemed Life Member Award was presented to two women – Mary Worthman from Church of the Resurrection, Lakeland and Josephine Hodgins Bidwell from Our Lady of Lourdes Parish in Melbourne who between them have served in CCW for almost 100 years.
Guest speakers included: Trace Trylko, executive director of the St. Vincent DePaul Society who provided a brief history of the organization, its work and most especially the initiatives in the diocese which the women could support and Sheila Hopkins, National Council of Catholic Women president.
"National Council of Catholic Women has been my spiritual home for 40 years – we love God and we love our neighbors," Hopkins said. "It's what we're called to do and we do it so well."
The mothers of the affiliations' spiritual advisors were honored at the final banquet with a slide show of photos and brief stories.
"All moms are incredible," Bishop Noonan said, "They leave a mark on all of our lives." He recalled his own mother, "Her last words to me were, 'Be a good priest.'"
Monin Gonzalez, mother of Father Miguel Gonzalez, ODCCW spiritual advisor, was present for the occasion. "There are no words to describe it," she said, "When I see him at the altar at the Consecration – when he raises the body of Christ – it gives me shivers that God chose my womb to carry him and bring him into the world."
Bishop Noonan concluded, "You Catholic women of the diocese have done wonderful things: you began the diocese, began the parishes, you support the priests, you are there for your brothers and sisters. Today we come thanking God for your faith, for the big things you do and for the little things – the things you do grounded in faith, grounded in truth, grounded in love – for this we give thanks."
The Orlando Diocesan Council of Catholic Women is made up of 37 affiliations across the Diocese of Orlando, including the newly formed Holy Family Council of Catholic Women which began meeting in April 2016. As part of the National Council of Catholic Women, local affiliations acts through its members to support, empower and educate all Catholic women in spirituality, leadership and service. Programs respond with Gospel values to the needs of the Church and society in the modern world. For more information visit: www.odccw.com