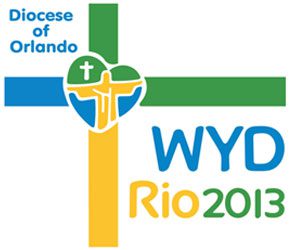 The Diocese of Orlando Office of Faith Formation is partnering with the Brazilian Catholic Community to host a local World Youth Day event on July 27 at Resurrection Catholic Church, 1211 Winter Garden Vineland Road, Winter Garden from 2:00 p.m. to 8:30 p.m.
The event is for youth and young adults ages 16-40. This multicultural, multi-faceted celebration will include an opening flag ceremony, prayer, music, enlightening talks, and Brazilian food. Parishes are encouraged to organize a pilgrimage for youth (ages 16-18) and to invite young adults (ages 18-40) to attend.
This is an exciting opportunity to celebrate the global and local Catholic Church. If possible, the day will include a live streaming of Pope Francis' WYD-address from Rio de Janeiro.
Click here to download a promotional flyer. Click here for registration forms. Click here for consent forms.
Schedule of the Day:
2:00 pm Registration
2:30 pm Welcome and Opening Prayer
3:00 pm Keynote Speaker
3:30 pm Workshops "Go and Make Disciples of All Nations" (Matthew 28:19)
4:00 pm Break and Preparation for Mass
5:00 pm Multilingual Mass
6:00 pm Dinner (Brazilian Snacks and Pizza)
6:30 pm Celebrate WYD 2013
8:00 pm Closing Ceremony
https://www.orlandodiocese.org/faith-formation-news-rotator/item/18955-local-world-youth-day-event-july-27