From April 23-26, our Youth Ministry Director, Carlos Bernard Jr. joined other diocesan youth ministry leaders from across the country in Washington D.C. at the annual New Diocesan Directors' Institute (NDDI), sponsored by the National Federation for Catholic Youth Ministry (NFCYM).
The program is part of NFCYM's mission to educate, train and support diocesan leadership. The gathering included an
introduction to national Catholic Church resources, training in management skills, insight into personal spiritual development, as well as ongoing visioning and planning.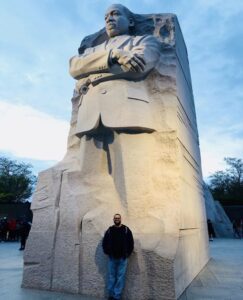 While in Washington D.C., the NDDI team visited historical sites and churches where they joined the celebration of Mass and spent time in prayer and reflection.
They explored the National Monument, Martin Luther King Jr. Monument, St John Paul II National Shrine, Washington Retreat House of the Franciscan Sisters of The Atonement, Basilica of the National Shrine of the Immaculate Conception and more!
At the St. John Paul II National Shrine, Bernard Jr. offered a special prayer to St. John Paul II, "Bless the church that you loved and served and guided, courageously leading it along the paths of the world in order to bring Jesus to everyone and everyone to Jesus. Bless the young, who were your great passion. Help them dream again, help them look up high again to find the light that illuminates the paths of life here on earth."
He also prayed for the blessings of our "great and and amazing youth and young adult ministers of the Diocese of Orlando."
April 26, 2018