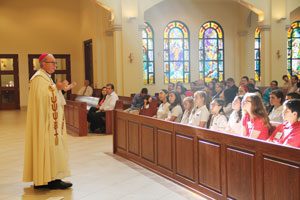 As they prayerfully processed into St. James Cathedral, carrying a lighted candle, the youth of the Diocese of Orlando reminded the faithful that they bring Christ's light to the world. The teens and young adults joined Bishop John Noonan, clergy, faculty, family and other Catholics throughout the diocese for a prayer service and awards ceremony, the culminating event of a day-long celebration of the diocese's fourth annual Light of Faith Awards Program.
Speaking on the symbolism of the Church, Bishop Noonan focused on the candles that the youth carried.
"The candle is the Light of Christ, the Light coming into the world," he said. "At your Baptism, your parents were given a candle and they made a promise to bring the Light of Christ into your life. Light is a powerful symbol."
"Today, we come to celebrate the Light you have received," Bishop Noonan continued. "The Light is knowledge, is love, and it is care that we live in the Light and love of Jesus Christ. We are called to teach living in the Light of Christ. We want to bring forth goodness, righteousness, peace, hope and love."
During the prayer service, the students were honored for sharing the Good News as "Ace Reporters" for the Office of Communication's Faith News Online website, through writing and video projects, as well as promoting vocations in a poster contest organized by the Office of Vocations, promoting the Year of Faith via a youth art contest presented by the Office Faith Formation, and the Catholic Campaign for Human Development multi-media youth arts contest, presented by the Office of Advocacy and Justice.
The final award of the afternoon – the Witness to Hope Award — was presented to St. Margaret Mary Catholic Church and School in Winter Park. This award is presented to a parish that demonstrates through its mission the many blessings of the tools of communication in order to enkindle a deeper faith and form leaders in Christ within their parish community and throughout the world.
"We celebrate with you the goodness you have given," Bishop Noonan said to all of the award recipients. "Each of you are especially gifted and talented and you have brought the Light of Christ, through your gifts and talents, to show others, to help others see that Christ lives in our lives."