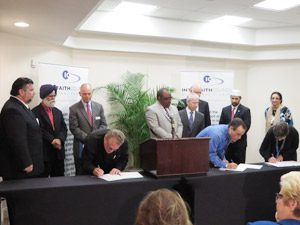 The eleven faith traditions that came together at a press conference on Monday, April 16 may have different doctrines, traditions, and beliefs; but they are united in their concern for the poor and the call to take action to serve those in need. Leaders from faith communities including Jewish, Sikh, Catholic, Unitarian, Hindu, Islamic, and Congregational communities joined their voices to call for expanded healthcare coverage for Florida's large uninsured population.
"Each faith community here today represents that call to be a community of compassion and justice," said Reverend Bryan Fulwider, chairman of the Interfaith Council of Central Florida, during his opening remarks. "To serve those who are underserved, to provide for those in need, and to prevent further actions that are destructive to human beings through lack of healthcare."
Florida has one of the highest uninsured rates in the nation with one out of every five Floridians lacking insurance. The Florida Health Insurance Affordability Exchange bill currently before the state senate would extend healthcare coverage to more than 800,000 Florida citizens and create more than 100,000 permanent jobs.
Joe Buranosky, executive director of Catholic Charities of Central Florida, sees the need for this type of legislation every day in the agency's medical clinics and assisted living facilities that serve the working poor who have nowhere else to turn.
"Healthcare is an issue that doesn't go away. The need continues to grow. As Pope Francis has reminded us, we are all responsible for each other. If we lose sight of that, we lose sight of our humanity."
Outlined by Saint Pope John XXIII's teaching in Pacem in Terris, the Catholic Church has long taught that access to health care is necessary and suitable for the proper development and maintenance of life and must be provided for all people, regardless of economic, social or legal status. The Church also teaches that special attention should be given to meeting the health needs of the poor.
"A basic level of healthcare is considered by the Catholic Church as a basic human right," explained Father George Nursey, diocesan director of ecumenism and parochial vicar at St. John Vianney parish. "We base that belief on the idea that the dignity of the human person stems from our creation in the image and likeness of God."
Other religious leaders spoke of the need for compassion and the responsibility to help the less fortunate before all present signed letters that will be sent to the Speaker of the House, President of the Senate, and the Governor of Florida asking for support of healthcare expansion.
"Human beings are considered trustees. We are entrusted with the care of all creation that is around us," said Rana Tiwari, representing the Hindu community. "For me the choice is very easy: let us care."
Imam Muhammad Musri, President of Islamic Society of Central Florida, continued saying, "A principle in Islam says, 'You're not a believer until you offer your brother what you offer yourself.' As a Floridian, I want for my fellow Floridians the same thing I have for myself. I have insurance that gives me peace of mind if I fall sick."