On June 4, Pope Francis celebrated the feast of the Body and Blood of Christ outside Rome's Basilica of St. John Lateran. In his homily, he said the Church and its members will never cease being in awe of the Eucharist, as the Eucharist, "sanctifies us, purifies us and unites us in a marvelous communion with God. In that way we learn that the Eucharist is not a prize for the good, but strength for the weak."
Three days later and 5,000 miles away, more than 1,000 Catholics from the Diocese of Orlando demonstrated that very love by participating in the diocese's annual Corpus Christi Procession, held for the first time on the grounds of the Basilica of the National Shrine of Mary, Queen of the Universe in Orlando.
Among the faithful was the Torres family from St. Thomas Aquinas Parish in St. Cloud. This was the first time Ricardo and Zulleika, along with their children, Andrum and Sabrina, participated in the procession.
"It was amazing," Ricardo said. "We are very happy we came to celebrate our faith. We feel very blessed."
The Corpus Christi procession dates back to the 12th century, in which Catholics — who seldom participated in the celebration of Communion up to that point — expressed their devotion to the Eucharist by seeing the consecrated host. Today, the procession offers Catholics the opportunity to reflect on the mystery of the holy Eucharist and brings them to greater levels of devotion to Christ's presence in the Eucharist.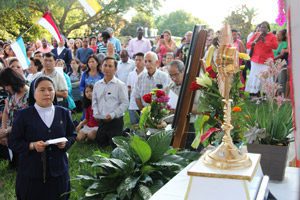 Walking under a canopy held by Diocese of Orlando seminarians, Bishop Noonan carried the Body of Christ in the monstrance throughout the grounds of the Basilica, stopping at several Eucharistic altars of repose, which were constructed by the many ethnic communities of the diocese – African, Brazilian, Filipino, Haitian, Hispanic, Korean, Polish, and Vietnamese. All the while, the faithful sang and chanted words of praise, while others prayed quietly as Bishop Noonan passed by with the monstrance.
Bishop Noonan set the consecrated host gently onto each altar, censed the Eucharist and knelt in prayer, as the respective communities sang songs of praise in their native languages and adored Jesus present in the Eucharist.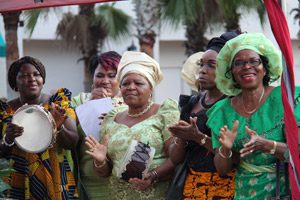 During the celebration of Mass held just prior to the procession, Bishop Noonan reminded the congregation that the Eucharist is an integral part of our faith.
"It is important to our faith," he said. "It is important to our traditions, but it is also the core of our belief."
When we come to church, we come to remember Jesus Christ and what he did for us," he continued. "He offered his Body and Blood, the most perfect sacrifice. Every time we come to Mass, we come to do as Jesus Christ asked us to do, to remember his gift to each and every one of us, the gift of his Body and Blood."