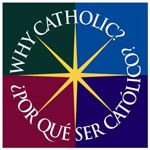 The fourth and final year of Why Catholic?, a program that helps adults explore the richness of the Catholic faith, is scheduled to begin Oct. 1.
This year's theme is "Life in Christ: Walking with God," which will look at biblical justice and present the principles of Catholic social teaching. The first six-week session will center on the Beatitudes, as well as freedom, responsibilities, conscience, virtues, moral law, sin, mercy, grace and the Church. The second sessions, scheduled to take place during Lent in 2014, will focus on the implications of the Ten Commandments.
Why Catholic? programs are offered in English, Spanish, and Vietnamese. A list of participating parishes and missions in the Diocese of Orlando may be found below. Contact your parish to register for the Why Catholic? program.
Why Catholic? was developed by Renew International and provides participants in-depth information and insight into core beliefs, the sacraments, morality and prayer. More than 1,300 parishes across the U.S. have implement the Why Catholic? program.
All Souls Catholic Church, Sanford
Annunciation Catholic Church, Longwood
Basilica of St. Paul, Daytona Beach
Blessed Trinity Catholic Church, Orlando
Blessed Trinity Catholic Church. Ocala
Centro Guadalupano Mission, Wahneta
Good Shepherd Catholic Church , Orlando
Holy Cross Catholic Church, Orlando
Mision Catolica La Guadalupana, Ocala
Our Lady of Grace Catholic Church , Palm Bay
Our Lady of Hope Catholic Church, Port Orange
Our Lady of Lourdes Catholic Church, Daytona Beach
Our Lady of Lourdes Catholic Church, Melbourne
Sacred Heart Catholic Church, New Smyrna Beach
San Jose Mission, Deland
St. Ann Catholic Church, DeBary
St. Clare Catholic Church, Deltona
St. Francis of Assisi, Apopka
St. Gerard Mission, New Smyrna Beach
St. Isaac Jogues Catholic Church, Orlando
St. Margaret Mary Catholic Church, Winter Park
St. Mary of the Lakes Catholic Church, Eustis
St. Patrick Catholic Church, Mt. Dora
St. Philip Phan Van Minh Catholic Church, Orlando
St. Theresa Catholic Church, Belleview